Uvalde school police chief says he's still cooperating with DPS investigation
The police chief for Uvalde Consolidated ISD said he has been talking daily with investigators since last week's mass shooting that killed 19 children and two teachers.
Pete Arredondo made that statement after the Texas Department of Public Safety said he hasn't come in for follow-up interviews.
It's seemed that nearly every day, there have been either new details from authorities or the story changes about details already announced.
What is perhaps even more murky now is the extent to which the school district's police chief is cooperating with investigators.
There were more funerals for the victims of the Uvalde mass school shooting on Wednesday.
Irma Garcia was one of two teachers killed in the attack. Her husband, joe, died of an apparent heart attack after visiting a memorial to his wife two days later.
They would have been married 25 years later this month.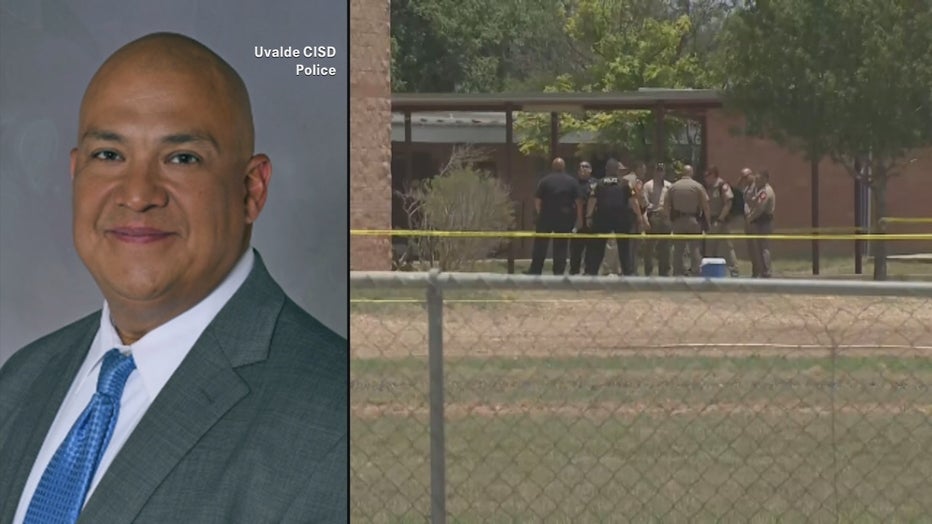 RELATED: Uvalde, Texas school shooting: Slain teacher, deceased husband both laid to rest
Jose Flores, who was just 10, was remembered as a boy full of energy who loved baseball and video games.
Meanwhile, we are hearing from Arredondo.
He's stayed almost entirely out of the spotlight since Texas DPS announced he was the incident commander who decided police should not immediately enter the classroom where the gunman was still alive with students.
RELATED: 'Very angry': Uvalde locals grapple with school chief's role
A CNN crew confronted him as he walked into work.
"Just so you all know, we're not going to release anything," he said. "We have people in our community being buried still, so we're going to be respectful."
A Texas DPS spokesperson said Tuesday that Arredondo had not responded to Rangers' request for a follow-up interview. 
Arredondo did not directly address whether he's agreed to a follow-up, but said he is talking with DPS.
"Just so everybody knows, we've been in contact with DPS every day," he said.
[REPORTER: "They say you're not. They say you're not cooperating."]
"I've been on the phone with them every day," Arredondo responded.
Arredondo, who was elected last month to serve on city council, was sworn in during a private ceremony Tuesday.
Other newly elected city council members were also reportedly allowed to swear-in privately.
READ MORE: Uvalde School Shooting News Coverage
Meanwhile, more stories are emerging from students who survived.
One described what happened when a friend tried to call 9-1-1.
"When she did that, he started saying, 'You'll die,' and my teachers there were screaming saying no, Miss Garcia was, and he shot my friends and my teachers," Khloie Torres recalled. "And then after that, he said good night. And he started shooting everybody."
In a letter Wednesday, the district announced students and staff will not return to Robb Elementary.
Plans are still be worked out as to how students will be reorganized among other campuses.
FOX 4 reached out to Texas DPS to see if Arredondo had agreed to an interview, but did not hear back.