TxDOT crews prepare roads for possible winter weather on Wednesday
DALLAS - The Texas Department of Transportation on Monday began treating highways, bridges and overpasses in North Texas with a brine solution to prepare for Wednesday's forecasted winter weather.
A winter storm watch was issued for Tarrant, Denton, Parker, and Grayson counties along with other areas west and north. The latest high-res computer models show a greater chance of heavier sleet on Wednesday morning.
"It's okay that we're applying it this early. You can apply it up to a week ahead, so our timing we think is going to be pretty good and once that bad weather rolls in we'll actually be transitioning from the brine to the de-icers, pellets and sand and that sort of mixture," said TxDOT spokesman Val Lopez.
Lopez says crews coming and going to refill their trucks with brine are on stand-by and ready to react or regroup according to plan.
Meteorologist Evan Andrews said Wednesday morning could be rough for areas north and west of Interstate 35W with temperatures below freezing and icy rain, sleet and possibly even some snow. Areas south and east of Dallas-Fort Worth will mostly see sleet and cold rain.
The storms will clear out before Wednesday night but temperatures will dip into the 20s so some icy spots will still be possible Thursday until the sun warms things back up into the 40s.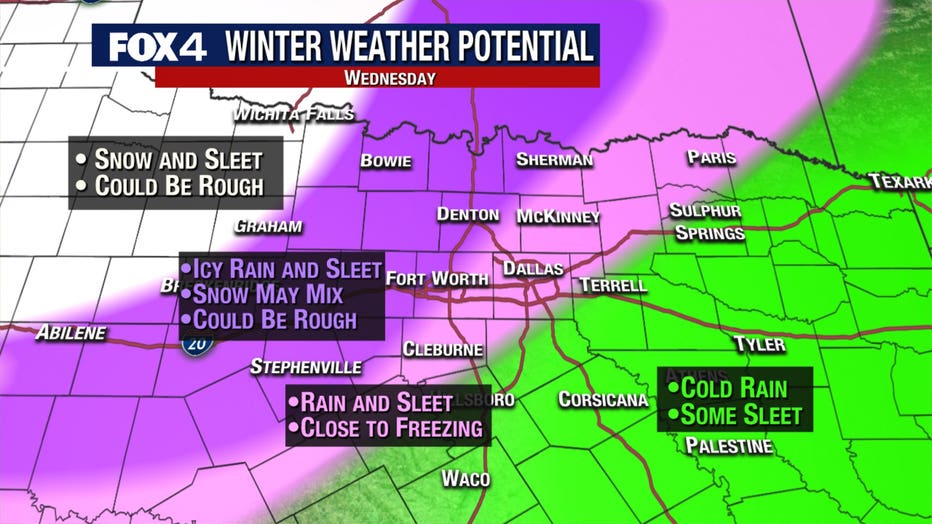 In the meantime, Fort Worth ISD is informing parents where to look for notices about possible schedule changes due to weather conditions.
"We already started this morning by posting information to our website and our mobile app," said FWISD spokesman Clint Bond.
This emergency operations center is where the district's decision makers will monitor conditions and decide if activating winter weather plans is warranted. 
Bond says if it becomes necessary to call off school in the middle of a regular day, the challenge most always involves transportation.
"One can you get enough bus drivers to come in early, then if you start losing buses because the roads are slick then you have a real problem and you don't get some kids delivered home, you may get them home later than they normally get there. So it's a very tricky call," Bond said.
In nearby Wise County, school administrators find themselves in a similar bind.
"The worse thing I can do, we as a district can do is let them know too late," said Sally Rodgers, Decatur ISD, Director of Communications.
Decatur ISD has some 3,400 students. There's six campuses in the rural community which means many kids relay on buses to get to class.
"Right now our plan is to be ready on Wednesday morning get up early. Some of our administrators will probably get up and drive the roads to make sure they're safe or not safe and then we'll make some determinations at that point," Rodgers said.
For the latest forecast updates, follow FOX 4 Weather on Facebook and Twitter.