Trump, other non-Texans may have Cruz defending home turf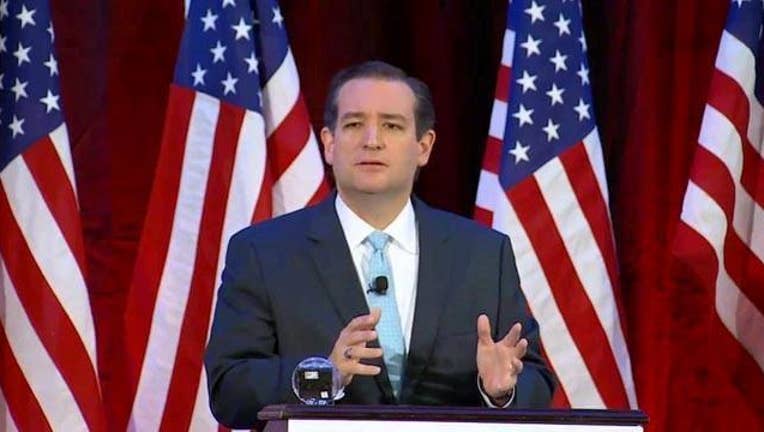 AUSTIN, Texas (AP) — In tea party friendly Texas, no political star has burned brighter in recent years than Ted Cruz.
He rode a grassroots groundswell to an upset Senate victory in 2012, further solidified his conservative credentials by helping lead a government shutdown and has built his presidential campaign around wooing the Republican Party's far right wing.
But Cruz may soon be finding himself defending his home turf.
The first-term senator addressed a hometown crowd in Houston on Tuesday and will hold three campaign events statewide Thursday — altogether his first public Texas visits since a pre-July 4 tour for his new book. He's coming back just as Donald Trump has shot to the top of statewide polls, mirroring a national rise.
Other rivals, Jeb Bush and Scott Walker among them, have come to Texas more frequently or at least more recently. They are mounting a challenge to Cruz that had been expected to come from home-state rival Rick Perry, the former Texas governor who instead is barely making an impact in the state.
For Cruz, said Austin-based Republican consultant Matt Mackowiak, "Texas is not a guarantee."
Cruz will hold a rally in Fort Worth on Thursday and tea party events in Tyler and back in Houston. His wife, Heidi, addressed a San Antonio crowd recently.
Cruz relishes being a political insurgent. But since Trump has cranked up the campaign's outlandishness, primary voters who might have looked to Cruz to shake up the status quo could gravitate to his reality-TV star competitor.
"Nobody will outwork Ted on the ground," said JoAnn Fleming, Cruz's Texas tea party chairwoman and organizer of the Tyler event.
But Fleming also acknowledged Trump's appeal.
"The GOP establishment created a Donald Trump-size vacuum," she said, "because they have failed to do anything they promised the American people they would do."
Cruz has been conspicuously careful not to criticize Trump. Indeed, he plans to appear with him at a Capitol Hill rally against the nuclear agreement with Iran. But Trump's ascension in Texas hasn't gone unnoticed.
"It'd be very difficult for (Cruz) to explain to people of other states how he should be the nominee if his hometown Republicans don't give him a first-place finish," said former Texas Republican Party chairman Steve Munisteri, who left his post to work for Rand Paul's presidential campaign.
Cruz spokeswoman Catherine Frazier shrugged off suggestions Cruz has to shore up his Texas flank. She said the home-state swing was planned before Trump's surge in polling: "We're focused on our own campaign."
Cruz says he's building a campaign structure and grassroots support in areas with primaries beyond the states that open presidential voting: Iowa, New Hampshire and South Carolina. That's why he toured the South by bus and visited states such as Wyoming.
Texas moved up its primary to March 1, meaning it will vote right after the opening three states and Nevada. It's now one of 12 states in the "SEC primary," so dubbed because many have college teams in the NCAA's Southeastern Conference. But with 150-plus delegates at stake, Texas is the biggest prize, though it won't be winner-take-all.
Cruz "will RARELY be in Texas for the presidential race," Fleming warned supporters in an invitation to the Tyler event. "He has 49 other states to visit."
Before the race began, Texas looked to be a Cruz-Perry showdown. But Perry has struggled since leaving office in January as the longest-serving governor in state history.
Most focused on Iowa, Perry hasn't held Texas campaign events since entering the race in June.
Cruz's campaign raised about $6 million in Texas through June, compared with less than $700,000 for Perry, according to Federal Elections Commission data. Bush, who was born in the West Texas oil patch and whose son George P. is the state's land commissioner, got more than $1 million from Texas donors.
Bush, the Florida governor, also campaigned on the Texas-Mexico border last week and used his fluent Spanish, which Cruz doesn't speak, though his father's from Cuba.
Walker, the Wisconsin governor, is coming this week for fundraising and political events in Dallas, San Antonio and Midland in West Texas. He's "not ceding anything to anyone in Texas," said spokeswoman Kirsten Kukowski.
He also visited the Mexico border, in March, with Texas Gov. Greg Abbott, who didn't participate when Cruz, Trump or Bush toured the border.
Paul, a Kentucky senator, campaigned in Texas in July and got help from relatives — his father was a longtime Texas congressman.
Mackowiak, the GOP operative, said the challenge for Cruz's campaign is to win the most Texas delegates possible without spending any more time or money than necessary.
"They need that money and that time to spend on the other states," Mackowiak said, "where he's less well-known."