Trackdown: Help find Waterrion Evans' killer
DALLAS - In this week's Trackdown, police are seeking the public's help to solve the murder of 20-year-old Waterrion Evans, who was shot while sitting behind the wheel in his car.
Dallas homicide detectives believe his killer was his front seat passenger, and another person was also involved.
This happened just before 9 p.m. back on September 15, in front of Rosy's Food Mart, in the 8400 block of Old Hickory Trail, in Southwest Dallas.
People were walking and driving through the strip center when Evans, who was called Jordan and Nine, pulled into the parking lot.
That's when investigators said Evans was shot by someone in his vehicle.
[REPORTER: "So you're saying there was someone in the car with him, not someone who approached the car?"]
"That is correct," Dallas PD Det. Chris Walton answered.
Police are releasing surveillance video to FOX 4's Shaun Rabb to get help from Trackdown viewers.
"The victim is pulling up in the parking lot, backing in, and when he backed in, it was a little brief moment where they stayed in the car, and when the individual exited out of the car, you see him trying to pull Mr. Evans out of the car as if he was trying to get him out, but Mr. Evans, he's a large guy, he's about 6'6", so the suspect was unsuccessful. Then the suspect went through the car and then left the location," Det. Walton explained.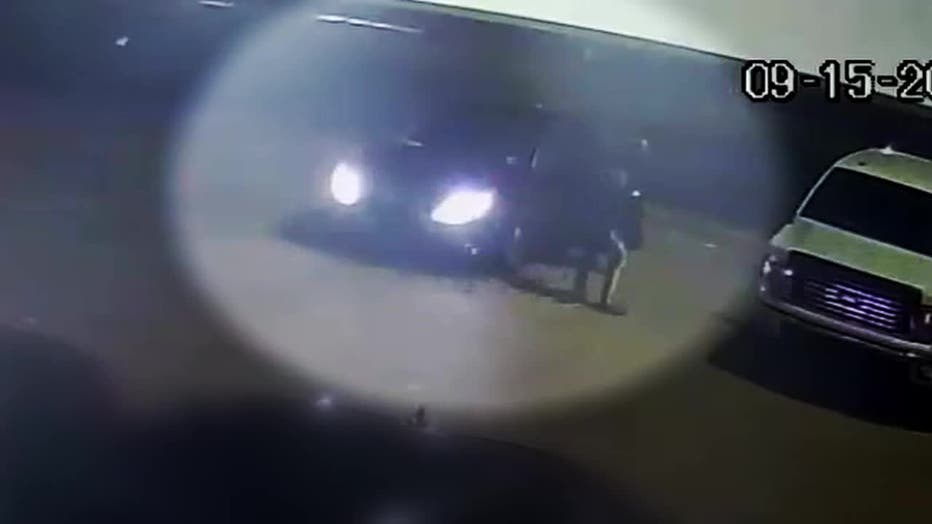 The detective said they believe another person was with the shooter, and they fled toward a nearby apartment complex.
"The suspects are believed to be Black males." Det. Walton said. "One was wearing dark clothing with a wipe stripe on one of the pants."
MORE: Trackdown Stories
Police are hoping someone will come forward with information about Evans' murder.
"I need the public's help. I need the public, someone to come forward. I need someone to give information. If they've heard anything, if they know why, I need them to come forward. I need them to talk to me because I have a family that has lost a true loved one and they miss him so much. I need answers for them," Det. Walton said.
Anyone with information can call Det. Walton's desk phone at 214-671-3632 or his cell phone, 214-701-8453.