Trackdown: Help find Quentin Gellington's killers
DALLAS - In this week's Trackdown, Dallas PD detectives are looking for two men who shot and killed Good Samaritan Quentin Gellington when he stepped in to stop a robbery, along with the driver of the car that drove over him when he fell.
Police think the trio are connected.
This happened back on October 14, in the 4600 block of Village Fair Drive.
"Around 3:15 a.m., Dallas police responded to a shooting call. Once they arrived, they discovered victim Quentin Gellington in the road," Dallas PD Det. Jelisa Reed said. "What we can tell is the victim was shot by unidentified suspects. After he was shot, he was ultimately ran over by an unidentified vehicle."
Investigators said Gellington intervened in a robbery and tried to defend the victim.
"He was trying to help someone," Det. Reed explained. "Mr. Gellington was a father of two. He was a son. He was a brother."
That's when police said the people who were trying to rob another person then turned on Gellington.
"Those suspects turned and they shot Quentin. Quentin was in the street. Quentin was ran over by an unidentified vehicle," Det. Reed said. "He was doing a good act and he was killed."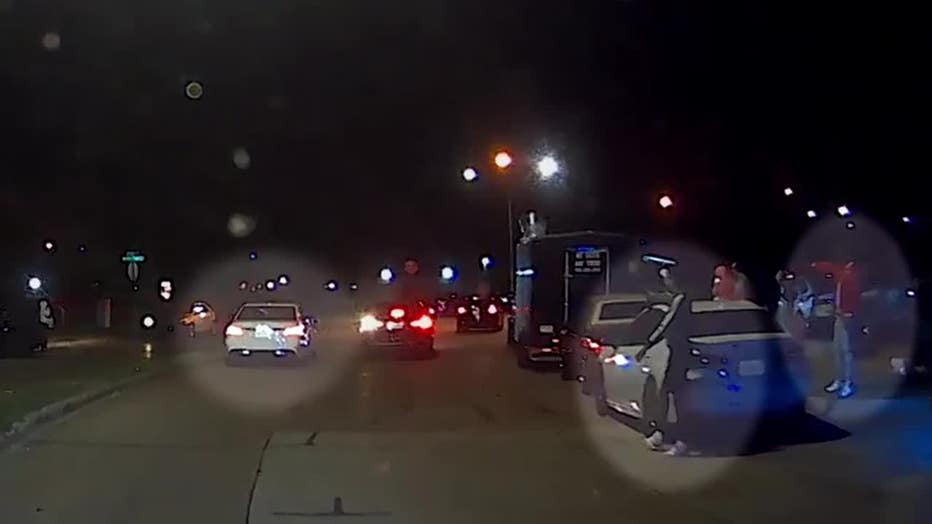 Police are releasing surveillance video of the suspects. One had on something red, and the other had on something black.
"We also see a white vehicle. We need help identifying the suspect in the red, we need help identifying the suspect in the black, and we need help identifying that white vehicle," Det. Reed said.
Detectives believe the video is clear enough to help identify these suspects.
"If you know these individuals and you were here the morning of October 14th, then you will know those suspects," Det. Reed said.
Anyone with information on this case or these suspects is asked to call Det. Reed at 469-597-9332 or email jelisa.reed@dallaspolice.gov.