Trackdown: Help find man who killed Marvin White outside Dallas Jack in the Box
DALLAS - In this week's Trackdown, a series of surveillance cameras told police how an innocent man was murdered early on Halloween morning in a Jack in the Box parking lot.
Video of the suspect's car shows a 2016-2021 gray Nissan Maxima.
The man seen walking in the surveillance video is the shooter who got out of the passenger side and opened fire on Marvin White.
The shooting happened just before 1:30 a.m. back on October 31, at the Jack in the Box in the 5700 block of N. Jim Miller Road.
RELATED: Man fatally shot outside Jack in the Box in Dallas
Police said White pulled into the parking lot to go into the drive-thru, and the vehicle carrying the shooter was waiting to get in line.
"When the cars moved in front of them, Marvin inched up, inched up, and pulled in front of the suspect vehicle," Dallas PD Detective Jacob White said.
That's when the front seat passenger in the gray Maxima got out.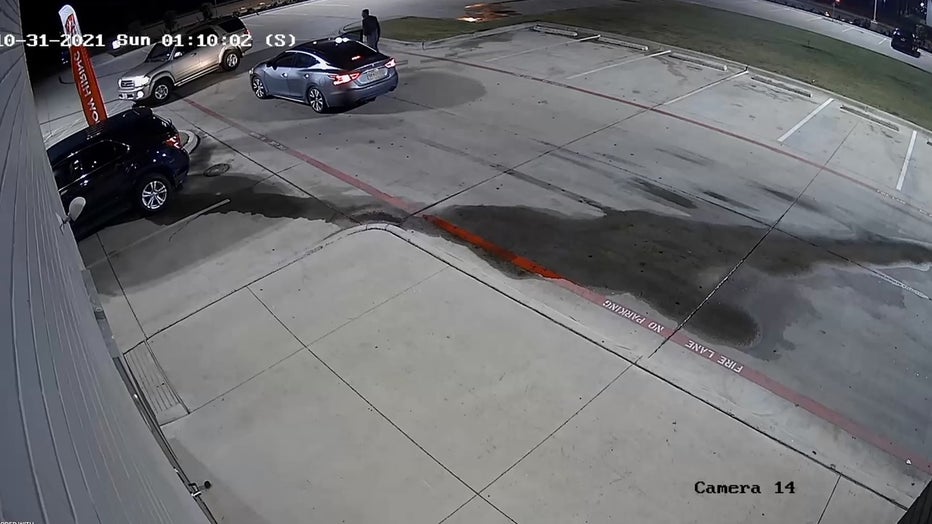 "As soon as he gets out, Marvin puts his vehicle in reverse and starts to back up," Det. White said. "[The shooter] exits the vehicle, has a gun in his hand."
White kept backing up in his SUV, clear he wanted no trouble. 
"He backs up across the parking lot. He backs up almost to the end of the parking lot," Det. White said. "But for whatever reason, the suspect turns and walks across the parking lot and approaches Marvin's vehicle."
The suspect fired one shot, hitting White, who managed to drive about half a block before he stopped.
Police are continuing to investigate who was driving that gray Maxima and who was the man who got out of it, intent on punishing White for getting in front of them at the drive-thru.
"I definitely believe that if you know this person, and you watch this video, you'll be able to recognize them," White added. "This is probably one of the most senseless murders that I've investigated in my six years.
Anyone with information is asked to call Det. White at 214-283-4825. Crime Stoppers is also offering a reward for information in this case.
MORE: Other Trackdown cases