Trackdown: Help find Aristeo Rivera's killers
DALLAS - In this week's Trackdown, police need the public's help identifying three men who were looking to rob someone when they shot and killed a man in the courtyard outside his South Dallas apartment.
FOX 4's Shaun Rabb has the clues police want people to see: a distinctive backpack and a multi-colored jacket.
The fatal shooting of 47-year-old Aristeo Rivera happened back on March 11, at an apartment in the 3200 block of Junction Street.
"Aristeo and a friend were having some beers outside, just relaxing, hanging out, and there's some individuals who look like they don't live in this complex as far as I can tell," Dallas PD Det. Jeff Loeb said. "They're just kind of looking for, presumably, a target."
Surveillance video caught the three suspects, and police are hoping someone can help with identifying them.
"You got three Black males. One of them has a backpack. On the backpack, has a square or diamond shape on the back of it and it's very shiny and reflective. I'm hoping the backpack will standout," Det. Loeb said. "The second suspect that you'll get a really good shot of, he's wearing a really colorful jacket and I'm hoping the jacket will stand out to someone."
Loeb said the third suspect was wearing a mask and a hoodie.
Rivera's friend left to go to the bathroom, and that's when the three suspects went up to Rivera.
"The guy with the backpack does have a gun drawn, approaches Mr. Rivera," Det. Loeb said. "Mr. Rivera tried to go for a weapon on his own, to defend himself, the suspects already had a weapon drawn. They shot him."
Police said they took Rivera's gun after killing him.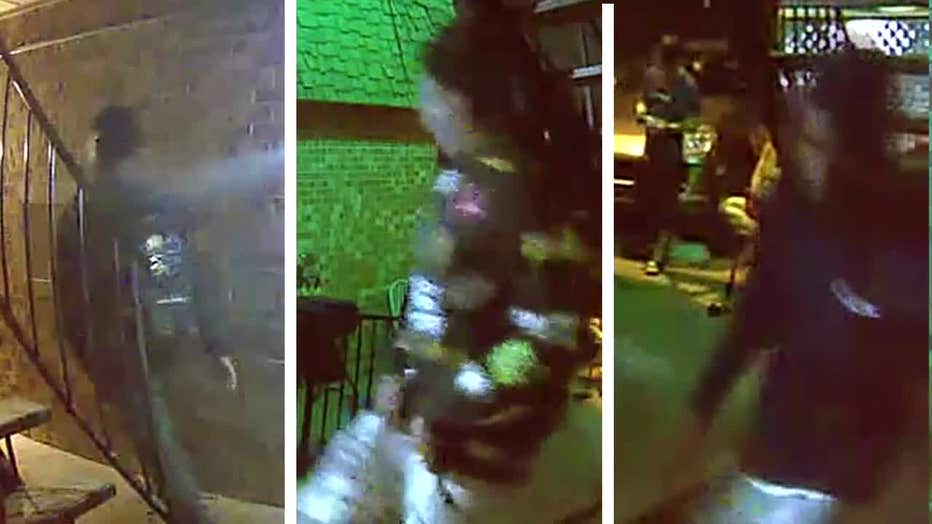 "They killed him, took his weapon, and left, so these suspects, instead of having one gun, they probably have two now," Loeb said.
Investigators believe the suspects may live nearby, as they left the scene on foot.
Anyone with information is asked to call Det. Loeb at 214-790-1836 or those wishing to remain anonymous can call CrimeStoppers.