Arrest made in Thomas Jefferson High School shooting
DALLAS - The person who shot a student in the parking lot at Thomas Jefferson High School in Northwest Dallas on Tuesday has been arrested, Dallas ISD announced late Wednesday night.
In a letter to parents  Dallas ISD superintendent Dr. Stephanie Elizalde said that the "individual responsible for the shooting had been arrested. However, she did not offer any additional information.
"[Tuesday] was tough, and [Wednesday] was tough," she said at a news conference Wednesday. "Not just as a superintendent, but as a mom. This is your worst absolute worst nightmare as a parent."
The student was shot about ten minutes after the final bell. They were hit in the arm and are expected to recover.
Elizalde said the incident involved three people, the victim and two people inside a car who opened fire. She added there is no evidence it started as a fight.
She said two people in a car drove up to the student in the parking lot when a gunshot was fired.
"There were two individuals who were in the vehicle, from where the incident occurred, towards the one individual who was in the parking lot," she said.
Elizalde said at least two of the people involved were students.
The superintendent did note the gun never made its way into the school building.
"We are committed to making our parking lots safer," said Elizalde.
Video of the shooting was captured by cameras.
The school principal credited three staff members who he said rushed to the student to provide aid and call 911.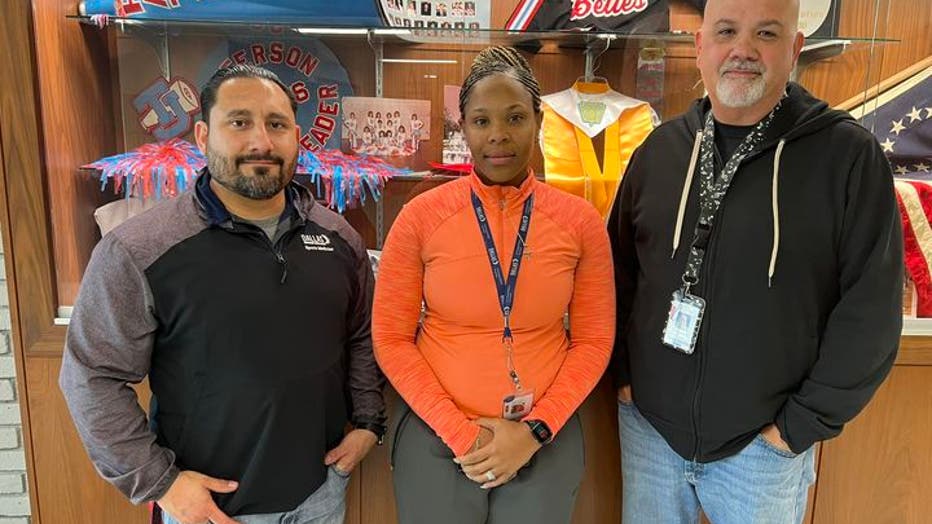 Raul Velazquez, Athletic Trainer (left), Brandi Elder, Asst. Athletic coordinator (center), Bob Romano, Band Director (right)
"Our athletic trainer was able to render first aide. Our band director is the employee who called 911 within about 30 seconds," Thomas Jefferson High School Principal Ben Jones said. "Our assistant athletic coordinator was the one that was able to call me all about simultaneously."
Jones declined to comment on the condition of the student, but did say he has spoken to the student's parents.
Dallas ISD is taking the lead in the investigation, with DPD offering support, and said not all information has been released while the investigation is underway.
Elizalde said she knows it was an isolated incident, though declined to give many details about the shooting, citing the ongoing investigation.
The district canceled class at Thomas Jefferson and the nearby Walnut Hill International Leadership Academy on Wednesday. 
"We can't contribute to the normalizing of guns in our society," Elizalde said. "If we held school today as usual I feel we would be contributing to that normalization."
"In today's time, there is not a day, until I go to sleep, that I am not afraid of something happening on a school ground. Period," Elizalde added.
Mental health professionals will be at both campuses starting at 10 a.m. Meals will be distributed at the schools from 11 a.m. to 1 p.m.
When classes resume on Thursday, there will be extra police on hand. The extra police presence will be on hand until further notice.
"We will be here. We will be smiling, and we will be ready for their tears," Elizalde said.
"We are okay, we will continue to be okay because the TJ family is strong," Jones said.