Texas Senate advances strict 'Don't Say Gay' bill
DALLAS - The Texas Senate gave final approval to a bill banning classroom instruction of gender identity and sexual orientation.
During a late-night vote Monday, the Texas Senate advanced a controversial piece of legislation that would limit classroom lessons, teacher guidance and school programming in Texas public and charter schools.
The bill, which critics refer to as the "Don't Say Gay" bill, has been a hot-button issue. The state of Florida already has a law like it in place, and it's been a source of considerable controversy there.
State senators are expected to give House Bill 890 final approval Tuesday.
It will ban the instruction of gender identity and sexual orientation in all grades – kindergarten through 12th grade.
Supporters, including Gov. Greg Abbott, argue it's essential to give parents more say over material covered in the classroom. They frame it as expanding parental rights.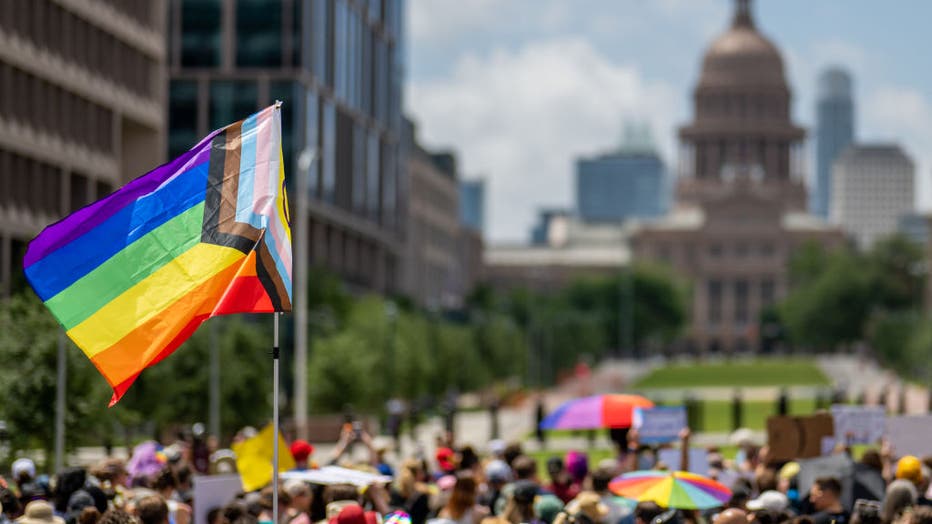 AUSTIN, TEXAS - APRIL 15: A Pride flag is seen held up in a crowd during preparation for a Queer March to the Texas State Capitol on April 15, 2023 in Austin, Texas. People from across Texas rallied together in protest against a slew of anti-LGBTQIA+
However, the version of the bill approved by the Senate differs sharply from what the House passed in late April.
The Senate version includes strong language restricting any reference in the classroom or school activities to gender identity and sexual orientation.
Critics claim it's harmful to LGBTQ students.
Those opponents argue among other problems, it would mean Texas public schools would have to pretend that the LGBTQ community doesn't exist.
Assuming the bill is passed by the Senate on Tuesday, it will then go back to the Texas House. The proposed law's fate is not clear after that point. 
"Sometimes, parents feel powerless in their ability to direct their child's education," said Texas Sen.  Brandon Creighton (R-Montgomery County). "This bill takes a stand by enshrining parental rights, ensuring Texas parents are chief decision-makers in their child's education.
Senator Sarah Eckhardt (D-Austin) asked the bill's Republican sponsor about different scenarios the Don't Say Gay provision could affect.
"Could a Gay-Straight Alliance be prohibited under this section?" she asked.
"When you say alliance, tell me about that," Creighton said.
"That's a common type of student club that meets on campus," Eckhardt said.
"Students' first amendment rights continue to be protected," Creighton said.
But a teacher who was to sponsor such a club would be prohibited from providing curriculum or instruction that violates the provision of this bill.
"It would apply to the same teachers' presence whether they're a sponsor or whether they're there to teach no matter the case," Creighton said.
Constitutional law attorney David Coale says a chilling effect is when someone, in this case, a teacher, may choose not to talk about a topic fearing it may get them into trouble.
"If someone's facing getting sued or getting fired because they choose the wrong word, people will naturally back away from that," he said.
Critics have repeatedly warned that while the proposed restrictions don't explicitly target queer people, their vague and broad language could still force Texas schools to ignore the LGBTQ community's existence. 
This could include preventing educators from discussing a wide range of historical issues such as the aids epidemic and marriage equality.
"And that's a likely argument that you'll hear if this bill becomes law and there are challenges made to it," Coale said.
One big factor looming over it is the legislative calendar. The session is scheduled to end on Monday.