Body of Texas National Guard soldier from Arlington recovered from Rio Grande
EAGLE PASS, Texas - The body of a Texas National Guard soldier who went missing while trying to rescue migrants in a river along the U.S.-Mexico border has been recovered. The 22-year-old was from Arlington.
His family shared what a loving, caring person he was.    
The soldier, identified as Specialist Bishop E. Evans, went missing on Friday morning after he jumped into the Rio Grande outside Eagle Pass to save two migrants who appeared to be drowning in strong currents.
Evans left his gear on shore but never returned.
The county sheriff in that area said drownings involving migrants are not uncommon along that stretch of the river.
The fast-moving current made it difficult for others to search for Evans' body.
"We are devastated by the loss of a member of our Guard family," said Maj Gen Tom Suelzer, Adjutant General for Texas. "We recognize the selflessness of this heroic soldier who put his life above others in service to our state and national security. The Texas Military Department sends our deepest condolences to the family. Our thoughts and prayers are with them during this difficult time"
RELATED: Texas National Guard soldier missing after mission to rescue migrants from river
Officials said both migrants Spc. Evans was trying to save made it to shore and were taken into custody by Border Patrol. They were reportedly involved in illicit transnational narcotics trafficking.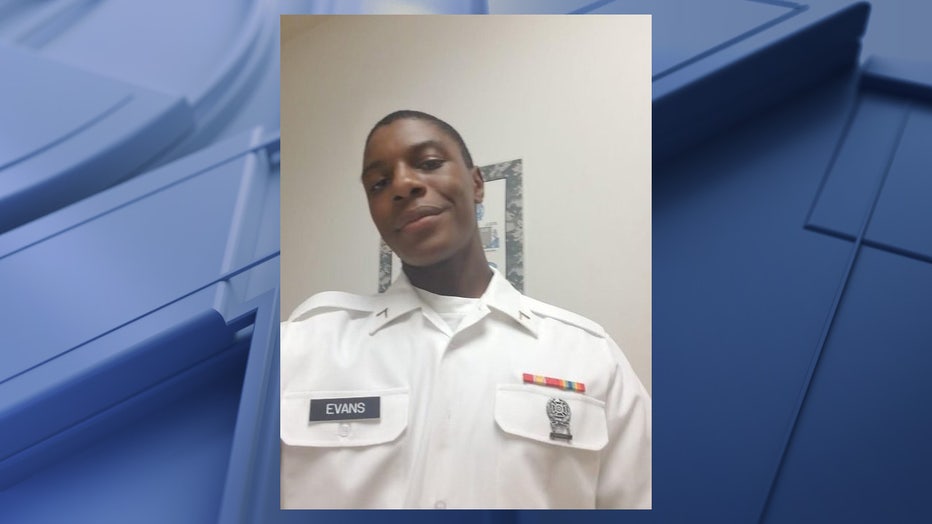 Photo Courtesy: Texas Gov. Greg Abbott, via Twitter
Law enforcement and guard members lined up to honor Evans as his body was taken by procession to the medical examiner's office draped with an American flag. 
Evans grew up in Arlington and attended Mansfield High School. He joined the Texas Army National Guard in May 2019 and served in both Kuwait and Iraq before being deployed to the southern border for Operation Lone Star, which is an initiative to crack down on illegal immigration. 
Evans' family says they are devastated but know he died trying to help save two other lives, calling him a selfless man with a good heart. 
Evans was raised by his grandmother, Jo Ann Johnson, since he was a baby. She and several other family members spoke to FOX 4 outside their Arlington home about how they would like Evans to be remembered. 
"As a hero. As a person who would give his life for you. Even if he saw you in trouble, if he saw someone hurting you, he would ask you who you were before he tried to help you," Johnson said. 'He would see you in trouble, and he would ask you about yourself later. But right now, you're in trouble. He is going to help you."
Evans' family says they just talked to him the night before he disappeared.
Governor Greg Abbott and Democratic gubernatorial candidate Beto O'Rourke both called the Evans family on Monday, but the family didn't want to expand on the conversations and didn't want to talk about anything involving politics.
Gov. Greg Abbott honored him for giving his life in service to Texas and the United States of America.
"Obviously what has happened is a tragedy. It shows how dangerous it is on the border. It shows heroism by the member of the Texas National Guard who was trying to save lives," the governor said.
The White House offered its condolences to Evans' family.
The family is still working on funeral arrangements and say they appreciate and are overwhelmed with all the love and support.