Texas bars ordered to close, restaurants limited to 50% capacity
DALLAS - Gov. Greg Abbott shut down bars in Texas again on Friday and scaled back restaurant dining, the most dramatic reversals yet as confirmed coronavirus cases surge to record levels after the state embarked on one of America's fastest reopenings. 
The abrupt closures began just days after the GOP governor described shutting down business as a last resort, and reflect how urgently Texas is scrambling to contain what is now one of the nation's biggest hotspots. In the last four days alone, Texas has reported more than 23,000 confirmed new cases, and Friday surpassed 5,000 hospitalizations for the first time -- a threefold increase from a month ago. 
"At this time, it is clear that the rise in cases is largely driven by certain types of activities, including Texans congregating in bars," Abbott said. "The actions in this executive order are essential to our mission to swiftly contain this virus and protect public health."
He also ordered rafting and tubing outfitters on Texas' popular rivers to close, and required outdoor gatherings of 100 people or more to first seek approval from local governments.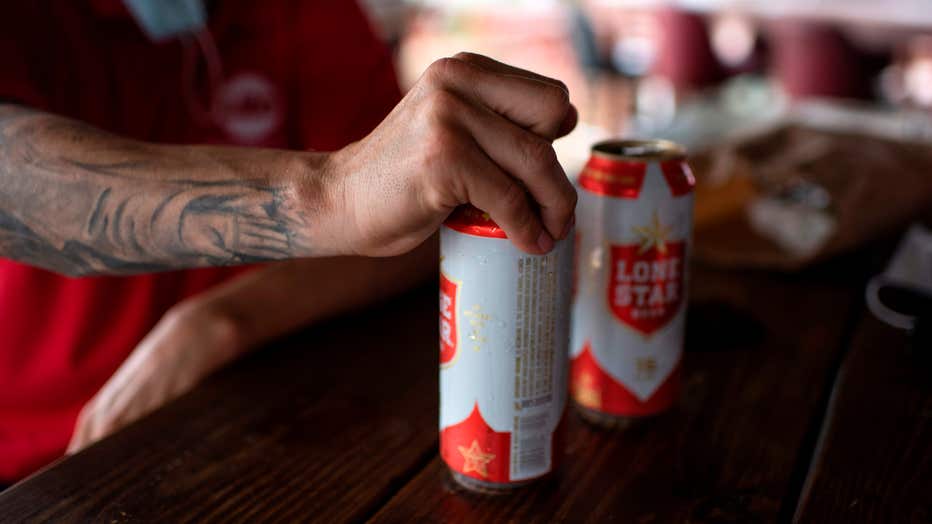 (Photo by MARK FELIX/AFP /AFP via Getty Images)
It remains far from a full retreat, and critics swiftly protested that Abbott was still understating the severity of the spread and contradicting his own warnings. 
On Sunday, Abbott will join Vice President Mike Pence at Dallas' First Baptist Church for a "Celebrate Freedom" service indoors. Social distancing protocols are promised, but Dallas officials still worry the event will lead to more spread. It comes at the end of a week in which Abbott has urged people to stop going out, saying "there's never a reason for you to have to leave your home."
The Texas GOP is also pressing ahead with a July convention in Houston and won't require face coverings even though Abbott, the party leader, says everyone in Texas should wear one. And on Monday, early in-person voting begins in Texas for primary runoffs that Abbott postponed in March, saying at the time that holding the election as scheduled would "threaten the health and safety of many Texans."
RELATED: Coronavirus coverage
At that time, Texas had but a few dozen reported cases. On Thursday, the number of hospitalizations soared past 4,700, a doubling in under two weeks. 
Abbott began lifting lockdown orders in May, and accelerated his own timelines on some openings amid protests from conservatives. 
"The doctors told us at the time, and told anyone who would listen, this will be a disaster. And it has been," Dallas County Judge Clay Jenkins, a Democrat who is the county's top official, said. "Once again, the governor is slow to act. He is now being forced to do the things that we've been demanding that he do for the last month and a half." 
Lt. Gov. Dan Patrick pushed back on the idea Texas was locking down, again. In a FOX News interview before Abbott's executive order, he said Texas wouldn't back away from its reopening plan.
"Her specific question was, 'Are you gonna lockdown?' I said we're not gonna back up, that's what I was referring to and I don't believe that's going to happen," Patrick told FOX4.
Patrick said Abbott's action is aimed at the group with a rising number of COVID-19 cases – people ages 18-49.
"The bars, specifically, have been an issue for large gathering places. Secondly, we also know we had thousands upon thousands of people who were in the street, many of them young people, and so the governor specifically wants to address that young population where they are really at least half or more of the positive tests we're getting and nearly half the people in our hospitals," Patrick said.
Texas reached a record high positive tests of 5,996 on Thursday. The day's tally of 4,739 hospitalizations was also a record. The state's rolling infection rate hit nearly 12%, a level not seen since the state was in a broad lockdown in mid-April. The figures include a doubling of the infection rate to more than 10% -- a mark Abbott said in May would be a "red flag" in his reopening plan, which at the time he said was backed by the White House. 
The number of infections is thought to be far higher because many people have not been tested, and studies suggest people can be infected with the COVID-19 virus without feeling sick. 
Under the newest rollbacks, restaurant dining rooms must scale back to half capacity starting Monday. The Texas Restaurant Association supported the rollback, but also pointed out that social distancing made it hard for most restaurants to exceed 50% capacity anyway.
The group also continued to press Abbott for a statewide mask policy. "It's to ensure our restaurants aren't law enforcement," said Emily Williams Knight, president and CEO of the organization.
Hurricane Katrina brought David Cui to Dallas. He's since opened a Cajun restaurant, The Swamp Café. Now he faces another major threat -- COVID-19.
"This moment everybody needs help, we have nowhere to run, nowhere to go and consumers getting more and more panicked. So it's diffIicult for the retail sales," Cui said.
At Maguire's Restaurant, owner Mark Maguire says rolling back won't make that much difference.
"It is darn near impossible for me to get more than 50 percent in this restaurant and still maintain all the social distancing guidelines," Maguire said, adding that the roll back was unfortunate but not unexpected.
Cui said he's been through the storm before and will hold on, again.
"We're going to make it through, just like we did the many, very difficult disasters like Katrina," he said.
The Associated Press contributed to this report.