Tarrant County delays in-person school until Sept. 28
FORT WORTH, Texas - School in Tarrant County will be virtual-only for the first six weeks of the year.
Tarrant County Judge Glen Whitley issued a public health declaration Tuesday that orders all public and non-religious private schools not to reopen for in-person classes until at-least Sept. 28.
So far, most Tarrant County districts still plan to start school the week of Aug. 17 with virtual instruction.
Health advisors said they worked on the plan with school districts in the county, including Fort Worth, Arlington, Grapevine-Colleyville, Hurst-Euless-Bedford, Keller and 15 other districts.
The plan gives them three weeks after Labor Day to determine if there will be a spike in COVID-19 cases because of activities over the holiday weekend.
Although the order does not apply to religious schools, health advisors are urging them to adopt a similar plan.
MORE: Coronavirus coverage
Tarrant County Public Health Director Dr. Vinny Taneja says the order to delay in-person classes until late September is based on science.
"For the first 10,000 cases, it was almost 109 days to get there. And then the next 21 days, we got another 10,000 cases," he explained. "With that backdrop, it's kind of hard for us as public health departments and local health authorities to say go ahead and open schools because we're just asking for trouble at that point."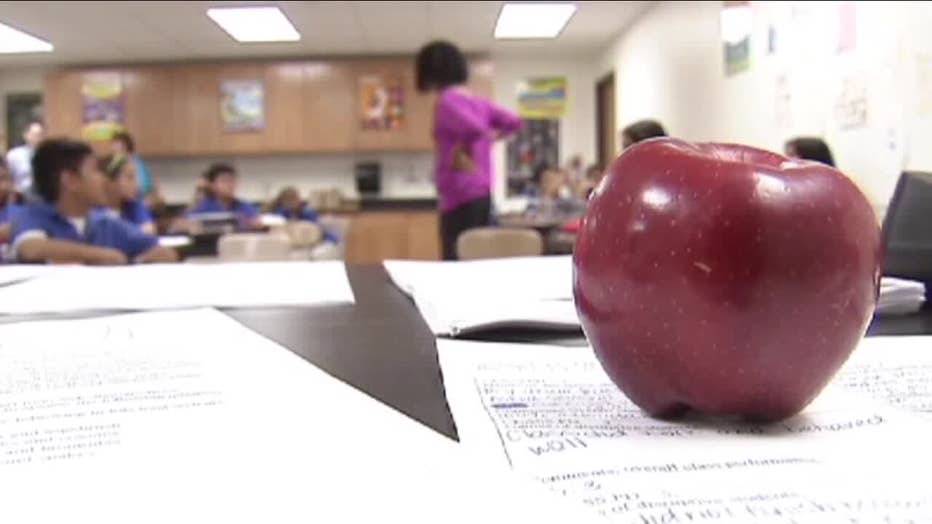 Tarrant County Judge Glen Whitley explained how state funding also plays a role.
"Last week, the TEA came out and said in order for school districts to be paid, they had to have orders from the public health authority," the judge said. "Not from the county judge, not from the counties, but from the public health authorities in order to be able to not open their facilities to the general student populations."
Extra-curricular activities will be allowed to take place remotely or outdoors with social distancing under the new order.
Districts will also be required to submit a plan for students to safely return to campuses at least two weeks before reopening. 
The Tarrant County order does allow exceptions for some students such as those with special needs, no internet access and teachers' children.
Although many school districts are on board with the decision, Fort Worth ISD Superintendent Dr. Kent Scribner also sees major challenges.
READ MORE: Fort Worth ISD changes plans for school year after Tarrant County issued health order
But the on-campus delay will give districts more time to get supplies in place when students do return.
Scribner said in Fort Worth, students with the most specialized needs will be invited back onto campuses for in-person learning with social distancing if their individual education plans can't be accommodated virtually.
Fort Worth ISD plans to spend tens of millions of dollars on safety equipment and supplies.
"We're spending a lot of money on PPE. We're spending a lot of money on face shields, plexiglass, fogging machines, hot spots and devices," Dr. Scribner said. "Anyone who thinks that public education around the country, not only here in Texas, can pull this off without an additional investment is incorrect.
The district also plans to work directly with teachers for their own children's needs and families who don't have access to reliable internet.
The Fort Worth ISD school board approved the distribution of 24,000 mobile hotspots last spring. On Tuesday night, the board plans to vote on spending $2.4 million more for hotspots.
"This is a systemic problem. We are dealing with it in the short term but really with the support from our trustees, from the business community, from our philanthropic community here in Fort Worth, we're looking to make a significant investment in connectivity across the city," Scribner said.
Carroll ISD Superintendent Dr. David Faltys says more than 60 percent of parents in his district were in favor of in-person learning in Southlake classrooms.
Because of the order requiring online-only, Faltys says the start of the school year may be delayed.
"We were prepared to go back to school as normally as possible," he said. "Now that the order states that we will be remote only, we will be visiting with our board about delaying our start about a week."
Southlake-Carroll is among several Tarrant County districts looking at or deciding on delays.
Crowley ISD board of trustees had an emergency meeting Tuesday. The board voted to postpone the start of online-only learning until Sept. 8 and are planning for the option on in-person classes to resume Oct. 5.
Crowley ISD Superintendent Dr. Michael McFarland says parents, teachers and staff all overwhelmingly supported the Sept. 8 start in a survey.
Because of the change, Thanksgiving break will be reduced to three days and the last day of school is now June 11.
"We believe this will give us the best possible chance to be successful with providing a high-quality education for students in the safest environment possible for our teachers, custodians, cafeteria workers, bus drivers and for our families," Dr. McFarland said.
Burleson ISD is also delaying its start. The district said, "to ensure successful implementation of tea's new programs, we will delay the start of the school year from August 19 to August 31."
Eagle Mountain-Saginaw ISD told parents "pending board approval, we will move the start date to Aug. 20 to allow additional time for staff training on the EMS ISD remote learning plan."
Arlington ISD says it is going to start the new school year on time on Aug. 17. Superintendent Dr. Marcelo Cavazos says they have been preparing for the possibility of starting the year teaching online-only, which is now a reality. He says they will continue to provide lunch to students and make sure they have internet access.
"There is always a concern with making sure students are connected," Dr. Cavazos said. "We know in the spring we handed out 20,000 devices to our families to have the devices but also hotspots to have connectivity, but we are asking our parents to register because we are asking those questions."