Tarrant Area Food Bank to resume food distribution events following severe winter weather
FORT WORTH, Texas - Many North Texans have had to deal with a number of issues caused by the severe winter weather over the past several days, but the Tarrant Area Food Bank will hold several food distribution events to help those in need of food.
People are in need of food after power outages caused issues at homes across North Texas and at local grocery stores and restaurants.
The first TAFB distribution event will be Thursday, from 1-4 p.m., at TAFB's Distribution Center, located at 2600 Cullen Street in Fort Worth.
TAFB will then hold events Friday, Saturday, and Monday, at Herman Clark Stadium in Fort Worth.
The winter storm has not only stifled North Texas travel, but the domino effect continues at grocery stores. High demand has limited food shipments.
A store near Downtown Fort Worth mirrors shelves across the metroplex.
TAFB and its suppliers also affected.
"The trucks can't come in. We've had our own set of issues in that regard," said Julie Butner with TAFB. "Our power was off for 48 hours here at the distribution center at Tarrant Area Food Bank so we have food in our cooler and our freezer that has gone bad."
People have been grateful for any food.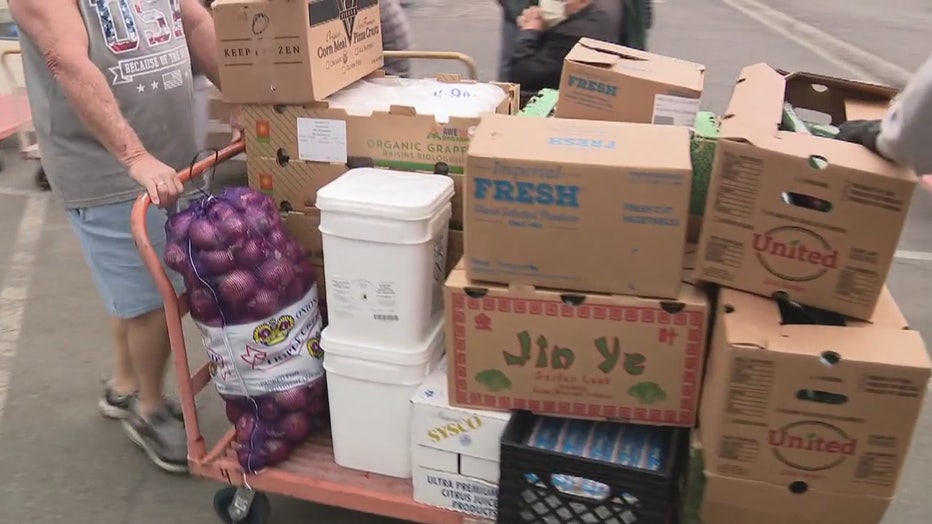 "Power has been on and off. Now, it's off. I've got five kids to feed it's been hard," said Marcos Antonetty, who was picking up food. "I went to the store like you said. There's nothing. There's nothing man."
"Beginning tomorrow on Friday, we will be at Herman Memorial Clark Field," Butner said. "The Fort Worth ISD has cleared a way for that. We will also be out there on Saturday and on Monday doing direct to neighbors and need distributions."
Friday's event will be from 10 a.m. to 1 p.m., Saturdays' event will be from 2-4 p.m., and Monday's event will be from 10 a.m. to 1 p.m.
Click here for information about volunteering for the events.
The North Texas Food Bank will also hold two drive-thru events this weekend. A mobile pantry will be at UNT Dallas from 1-3 p.m. Saturday and another will be at  Grace Church on Preston Road in Plano from 2-4 p.m.
The food bank is ready to give out about 25,000 meals to families in need.