Suspect arrested for explosion near Bedford bridge
BEDFORD, Texas - A man is in custody after an explosive went off in Bedford, in northeast Tarrant County.
People reported hearing the explosion Wednesday afternoon near a bridge on Forest Ridge Drive and Bedford Road. No one was hurt.
Police arrested a man shortly after and closed Forest Ridge Drive between L. Don Dodson and Bedford roads.
That road is expected to reopen Thursday at noon after engineers inspect the bridge.
An explosives response team did find a second suspicious device and destroyed it overnight, police said.
The Bureau of Alcohol, Tobacco and Firearms will lead the investigation. Authorities have not confirmed the location where the second device was found.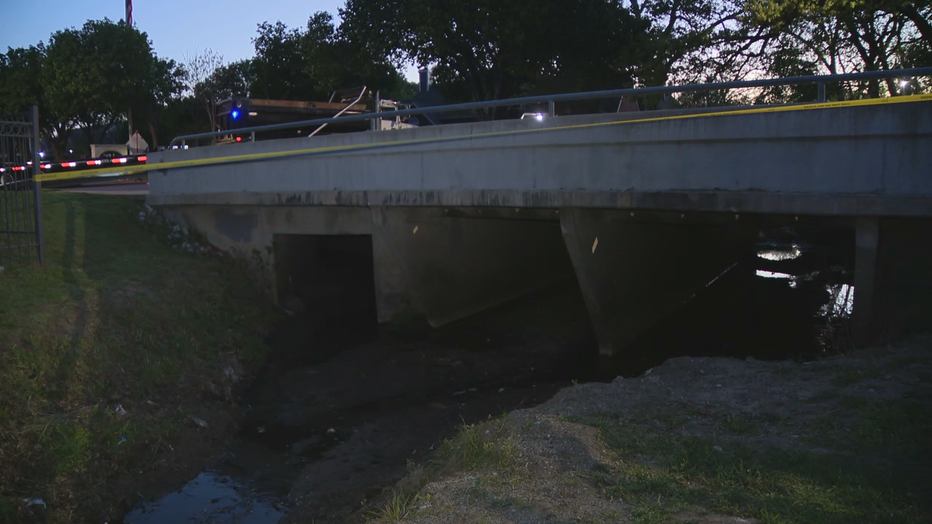 "I was sitting here just reading and something caught my eye, and I looked up and he was just right about at the trees, walking right along the bank of the creek," Don Pals recalled.
Pals lives within direct view of where the explosion occurred on a Bedford neighborhood street.
"He steps down the bank and goes under the bridge, and I thought that's a muddy, stinky mess, why would you do that, but he disappeared under the middle span," Pals added.
He believes that man is the suspect police arrested in connection with two planted explosive devices on Wednesday.
Pals also recalled an unsuspecting pedestrian came along and narrowly avoided what happened next.
"He barely stepped out when it went boom! And I mean I jumped up startled, the guy on the bridge about fainted, and this guy looked a little dazed like he maybe miscalculated, and then up the bank and away he went," Pals recalled.
Bedford police said the pedestrian was a man walking his dog. He and many others who heard the explosion called 911. One tipster was especially helpful.
Investigators also determined their person on interest had been arrested recently for a similar crime in Hurst.
"One of the many callers believes he had an idea who it was going to be and knew what apartment it was," Bedford PD Officer Anthony Hocker said. "We were able to verify information. He provided us with previous arrest information, as I mentioned, from the city of Hurst."
Authorities arrested the suspect, whose name has not yet been released, around 3 a.m. Thursday at his Bedford apartment. They said he is not talking to investigators and a motive remains unclear.
Pals still can't believe he saw it all happen.
"The smoke billowed out from under there, gray, I mean really, but it was a boom like you couldn't imagine," he said. "I was just glad there was nobody around that could've been hurt."