State Fair of Texas to fully reopen in September 2021
DALLAS - The State Fair of Texas will welcome people back to Fair Park this September.
The pandemic forced the fair to adopt a drive-thru format last year where people could buy their favorite state fair foods and take a picture with a masked Big Tex.
The fair will fully reopen in 2021 with a theme of "Howdy, Folks!" However, fair fans should expect some changes this time around.
A spokesperson said they felt comfortable moving ahead with the fair given the fact that COVID cases are on the decline and vaccination rates are slowly going up.
"We couldn't be more excited to be welcoming everyone back this year," said Karissa Condoianis, a spokeswoman for the State Fair of Texas. "You can expect that it's going to be bigger and better than ever this year."
Organizers said they will follow all CDC guidelines that are in place at the time to keep guests safe. Specific safety protocols will be announced closer to opening day.
"Obviously for everyone, there's a comfort level in coming back to large events and so we understand and we will do our best to make sure this is a safe environment where people can come and have fun and adjust to their comfort level what they're ready for," Condoianis said.
But the plan is to operate a fair as close to normal.
This year's lineup of free live music was also announced, including 77 acts from Texas.
Texas-born Clay Walker will kick off the free concert series. Some of the others include Sugar Ray, R&B singer Dru Hill, Grammy-nominated Black Pumas, Jack Ingram, Kevin Fowler, Grand Funk Railroad, Mike and the Moonpies, Charley Crockett, Le Freak and Latin band La Energia Nortena.
There's even a new thrill ride and, of course, the annual Red River Showdown. Both Oklahoma and Texas are expecting full attendance after being limited to 25% capacity last year.
The biggest challenge for the fair may be hiring some 7,000 positions in just a few months.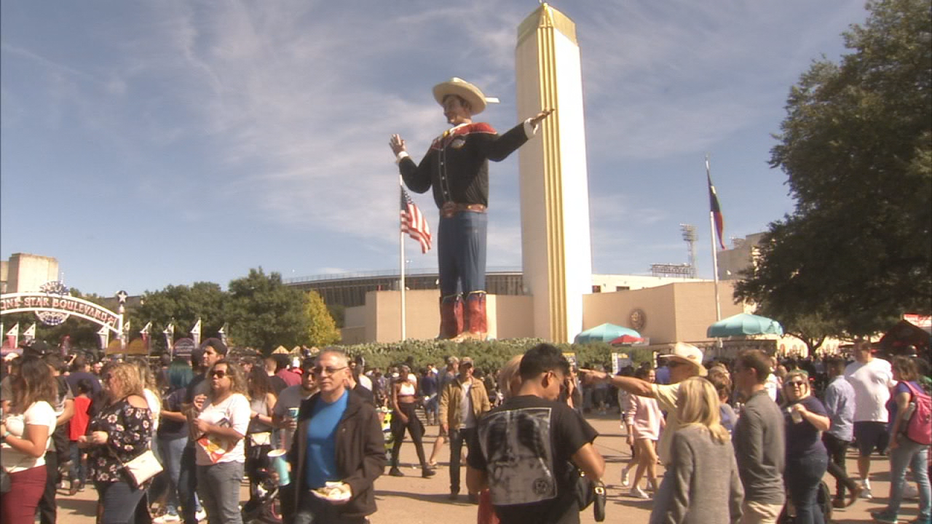 Famed Fletcher's Original Corny Dogs needs to hire 200 people to staff its busy booths.
"I've already started reaching out to our suppliers to make sure there's not going to be any shortages," said GG Fletcher with Fletcher's Original Corny Dogs. "I've been assured we're good."
Smokey John's BBQ & Home Cooking has been at the state fair for decades, too. Brent Reaves says they got hit hard in 2020.
"The state fair is very important to us," he said. "It represents 35% of our gross revenue for the year."
Smokey John's and Fletcher's were both part of last year's state fair drive-thru event. It helped, but both say reaching 23,000 cars isn't the same as 2.5 million people.
"I think the fair can be that final signal that things are back to normalcy," Reaves said.
"We're ready to get back to our home, which is Fair Park at the State Fair of Texas," Fletcher said.
It's unclear if some of the buildings at Fair Park that were damaged by February's winter storm will be repaired in time to open for the fair.
The fair runs from Sept. 24 through Oct. 17 at historic Fair Park in Dallas.
Season passes are now on sale.
RELATED:
State Fair of Texas asks for public's help planning 2021 fair
State Fair of Texas opens for drive-thru food event