Standoff underway in Sunnyvale after chase suspect shoots at officers, police say
SUNNYVALE, Texas - Police, DPS and sheriff's deputies are looking for a gunman who got away after a chase and a shootout in the Sunnyvale-Mesquite area.
People living in parts of Sunnyvale are being told to shelter in place Thursday night after an armed man bailed during a police chase and shot at law enforcement.
It all started with a traffic stop around 6 p.m. for a stolen vehicle in Terrell, and the suspect fired multiple shots at officers. 
According to DPS, the suspect has a long gun.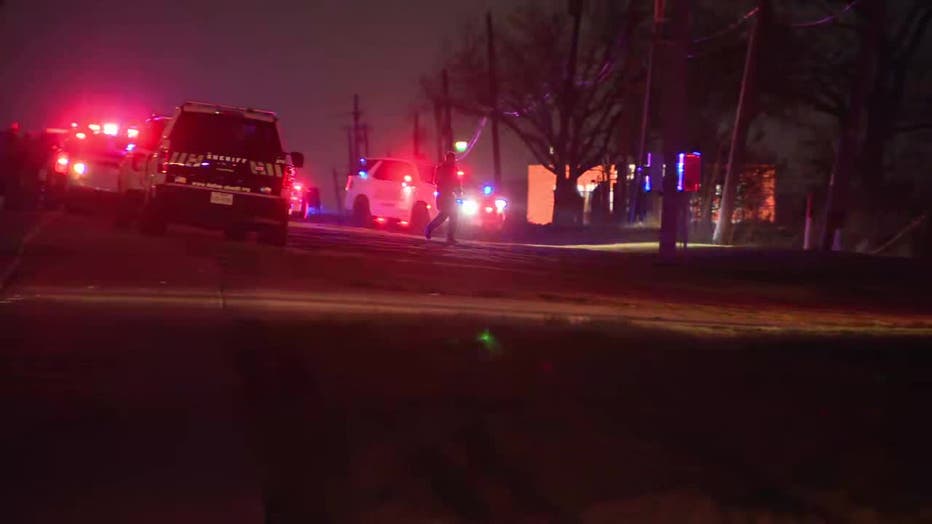 Deputies said spikes were deployed, and the gunman crashed and ran into an area off Highway 80 and Jobson.
The suspect ran near a neighborhood on Jobson in Sunnyvale. 
Deputies returned fire, but it's unclear if they hit the suspect.
No officers have been injured. 
DPS says the gunman is in a wooded area but not in custody. 
We talked to a witness who heard the gunshots. 
"I live about two streets down on Magic, and I'm pulling off to visit my grandmother. And I hear shots firing off. I see the helicopter. He was low at first then started going up high, so I thought he was shooting at the helicopter," said witness Tucker Ray. "Four or five cops are pulling up, and I'm heading maybe 8-9 shots ringing off. A friend of mine comes speeding up Jobson right here and he's going, 'Dude, shots are ringing out!' He said he saw the guy. He's in front of someone's mailbox taking cover, dressed in all black, and got a rifle and stuff."
Investigators are using thermal and other tools to locate the gunman. 
Multiple agencies are on scene from Dallas, Garland and Mesquite.