Southwest posts $723M profit in 2022 despite losing $800M in holiday meltdown
DALLAS - Southwest Airlines CEO Bob Jordan looked to reassure investors during an earnings call Thursday that the Dallas-based airline is making the adjustments needed to ensure that the meltdown in December will never happen again.
Southwest reported a net loss of $220 million in the fourth quarter after the 16,700 flight cancelations cost the airline $800 million.
The airline did post a $723 million profit for 2022 overall.
Tale of 2 airlines: Big profit at American, Southwest loss
Southwest executives said that after a slow start to the year bookings for March are now back in line with pre-pandemic levels from 2019.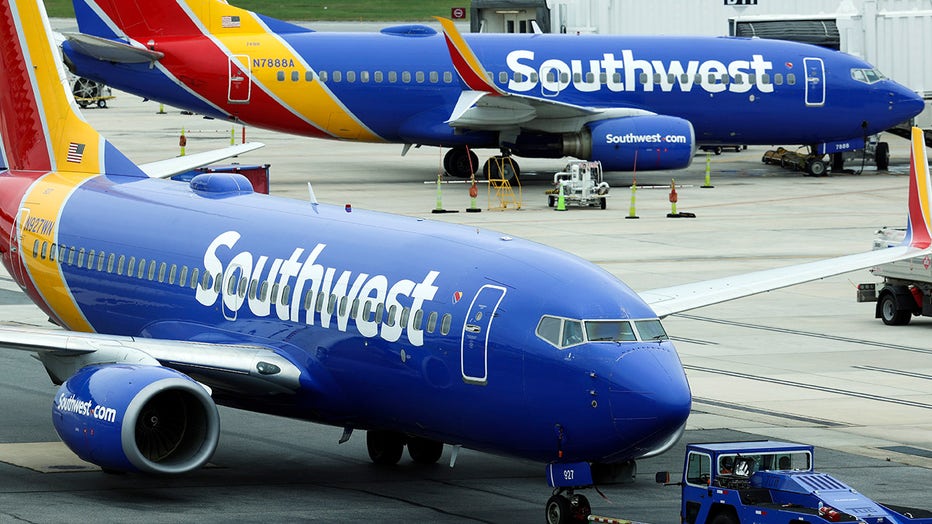 A Southwest Airlines airplane taxies from a gate at Baltimore Washington International Thurgood Marshall Airport on October 11, 2021 in Baltimore, Maryland. Southwest Airlines is working to catch up on a backlog after canceling hundreds of flights ov
Those bookings are, in part, due to customers cashing in on the reward points that the airline gave out to make up for all the canceled flights.
While the airline has hired a third party to review what exactly went wrong and what the airline needs to do differently Jordan took responsibility for the meltdown and apologized once again.
"This was a significant event, we disrupted thousands and thousands of customers at a critical point in time and really made a mess for employees and customers," he said. "I can't apologize enough for that, and I own that. We will do everything it takes to ensure we don't have another event like that again."
While labor groups have complained that Southwest Airlines crews are overstretched airline executives said today that the event in December had nothing to do with staffing.
Southwest Airlines shareholders sue carrier for 'downplaying outdated technology'
Leaders said Southwest was fully-staffed, even beating hiring goals in 2022, and the airline continues to have no problems hiring.
The Department of Transportation is investigating Southwest Airlines to see if the airline over scheduled flights during the holidays.
Southwest has denied any suggestion of deceiving customers.
The DOT previously warned Southwest to accelerate refunds and reimbursements to affected passengers.
Plano man finally hears back about reimbursements for travel expenses after Southwest Airlines outage
Southwest says it has fulfilled nearly all customer requests.
Jordan said the third party analysis of exactly what went wrong and what the airline needs to do differently is expected out in a matter of weeks.
An upgrade of the scheduling software is already underway.