Sen. Cornyn hosts fentanyl discussion in Dallas with families of victims
DALLAS - North Texas families of fentanyl overdose victims shared their heartbreaking stories of the dangers of the drug.
They took part in a discussion Monday with Sen. John Cornyn in North Texas about just how troubling this trend has become.
In June, Cornyn introduced legislation to address the fentanyl crisis, which passed the Senate unanimously and would provide critical funding for substance abuse disorder programs.
DEA warns of 'nationwide spike' of fentanyl-related mass overdoses across U.S.
There was heartbreaking testimony from North Texas parents who have lost children to a fentanyl overdose.
The parents took part in a roundtable discussion at Children's Health Specialty Center Dallas to raise awareness about the deadly fentanyl crisis.
Kathy Travis found her 25-year-old daughter, Jessica Duke, dead inside her Dallas apartment last year.
"The worst day of any parent's life," she said.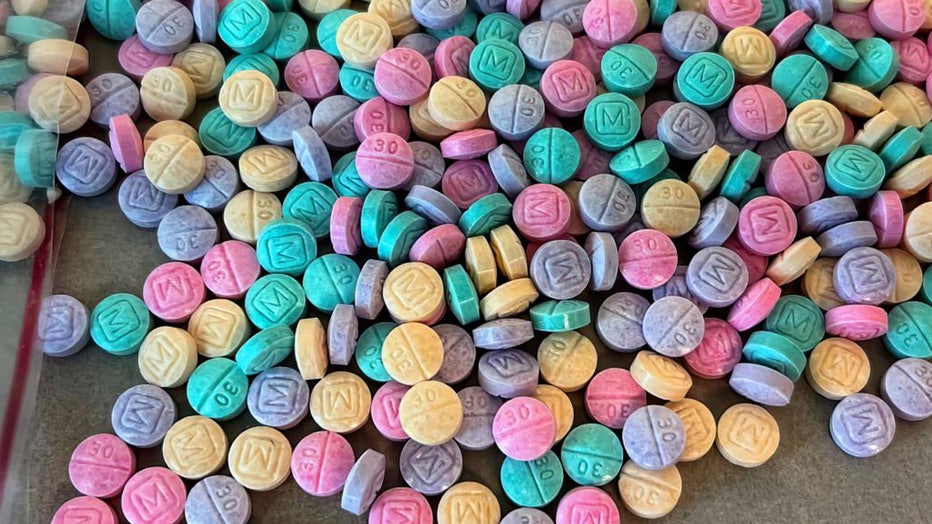 Rainbow fentanyl m30 pills. (DEA)
Last year alone, 1,600 Texans died from a fentanyl overdose.
According to medical experts, fentanyl is a leading killer of adults between the ages of 18 and 45, and Texas fentanyl overdose deaths have risen almost 500% since 2019.
"The types of kids who are dying from overdoses, they are often having problems with other substances first," said Dr. David Atkinson.
Like 18-year-old Chance Nash, who survived a near-fatal overdose.
"I opened my eyes again and saw Kathy and her son, my friend crying, as I was carried to an ambulance by EMTs after almost dying," he recalled. 
Nash lived thanks to the medication, Narcan, which every frontline Dallas police officer now carries.
"The application of this nasal spray can reduce the overdose by blocking the effects of fentanyl," explained Michael Igo with Dallas PD.
Since 2019, DPD has seized over 15,000 grams of fentanyl and about 3,700 this year alone.
Experts say the fentanyl is often pressed into pill form, and users often don't know they're taking the lethal substance.
As was the case with Patricia Hammad's daughter.
"She took a pill she thought was Xanax, but it was Xanax laced with fentanyl," she said.
With help from the DEA, Dallas police will soon use an overdose mapping tool to see where spikes in fentanyl drug use is occurring.
And Dallas ISD recently expanded mental health programs which now includes drug prevention programs.
Fort Worth police seize 28,000 fentanyl pills, $100k in cash during drug bust
And on Oct. 25, Dallas ISD parents are encouraged to attend a parent session that's going to be hosted by Care Dallas and the Recovery Resource Council which will highlight drug use trends among students, including fentanyl.