San Antonio district fires officer who body-slammed girl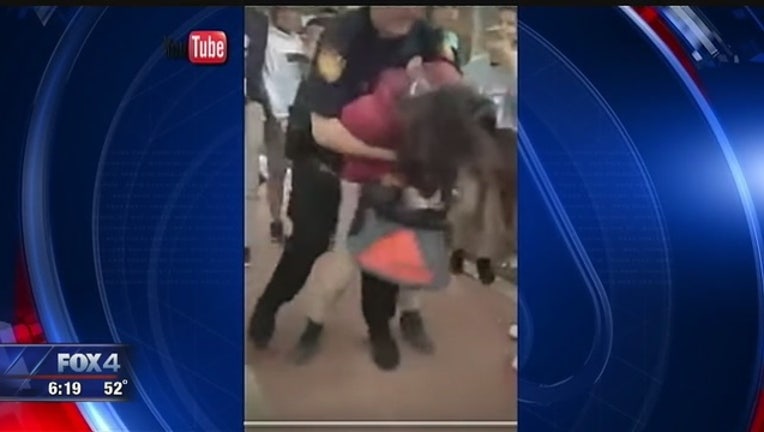 article
SAN ANTONIO (AP) — A San Antonio school officer caught on tape body-slamming a middle-school student was fired Monday by the district, which said the officer's misstatements about what happened were revealed by the video.
Officer Joshua Kehm's statements on the March incident were "inconsistent" with the video and his response was "absolutely unwarranted," the San Antonio Independent School District said in a statement.
Superintendent Pedro Martinez said Kehm's case has been referred to the Texas Rangers, the state law enforcement agency, for possible criminal charges.
The Combined Law Enforcement Associations of Texas will represent Kehm and plans to appeal his firing, the group's executive director, Charley Wilkison, said Monday.
There's two sides to every story," Wilkison said. "We intend to fully, fully defend this officer and make sure that all of his rights are upheld
Martinez said in an interview that he didn't find out about the incident until seeing the video on the Internet, and that staff at Rhodes Middle School also face discipline for not immediately reporting what happened.
The video shows Kehm struggling with the 12-year-old girl before body-slamming her to the ground. He then appears to handcuff the girl before having her stand and leading her away. She had been fighting with another girl before Kehm body-slammed her.
Kehm first told the district that the girl's fall was accidental, then that she had been fighting an arrest in some way, Martinez said.
"Our conclusion was the action wasn't warranted," he said.
The district is supposed to be notified whenever a student is restrained, and officers are strongly discouraged from using physical force unless absolutely necessary in the case of "imminent danger," Martinez said.
"It never should have gotten to this point," Martinez said.
Martinez also faulted school staff for not calling the parents of the two fighting students or taking other action before the incident. An assistant principal has been placed on paid leave, he said.
According to state records, Kehm had been a school police officer for just over a year.
"