Residents displaced after fire destroys Duncanville townhomes
DUNCANVILLE, Texas - Multiple families are out of their homes after a large fire burned through at least five townhomes in Duncanville.
The fire started late Tuesday afternoon at the Greene Townhomes near Clark and Wheatland.
The cause of the fire is unknown, but the complex had been affected by rolling blackouts.
Police say no injuries have been reported, but the Red Cross is assisting several families that have been displaced.
It's already been a tough week for residents at the Greene Townhomes after some had to bundle up for a cold night with power going on and off Monday night.
"It came on late last night, but it went off today," said resident Ryan Moses. "And then this happened. None of us were expecting this."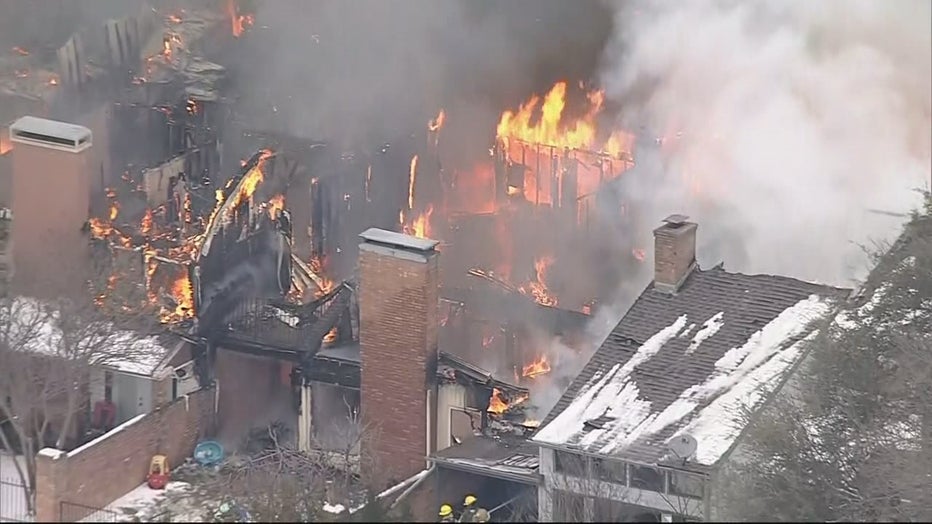 Residents are now looking to where they'll spend the night Tuesday night while watching their homes go up in flames.
"Very overwhelmed. Very overwhelmed," said resident Liz Wilson. "Because it's getting close. Now it gets attached to another unit, so it's coming my way now. So that's very scary."
"The house roof caved in. The back door busted out," Moses said.
At least five units were affected. First responders say there were some difficulties battling the fire in such cold temperatures. 
"I know they took the ladder down just a little bit ago to make sure it didn't get frozen in that position if they need to reuse it again," said Duncanville Officer Dough Sisk. "I know they're moving their equipment around and keeping it limber as much as they can."
"The fire department told us our fire hydrants are frozen so they're having to bring water in," Wilson said.
Neighboring departments from Grand Prairie, Midlothian, Red Oak, Lancaster and others came in to help get the fire under control.
The Duncanville Fire Department is still investigating the cause, but it says with the cold weather, more people may be turning to other methods to heat their homes.
"Don't overload wall sockets with too many plugs plugged in," Sisk said "That's the problem with the way the power cycling on and off. People are trying to get as warm as they can as quick as they can."
The fire department will likely remain on scene overnight to keep an eye out for any hot spots and make sure the fire doesn't reignite.