Research on reopening businesses ranks usefulness and risks
DALLAS - New research examines the decisions behind reopening Texas businesses and found serious concerns.
The researchers from the University of Texas and MIT have questions about the data behind the decisions and which businesses got to reopen.
"Unfortunately what we're seeing not just in Texas, but throughout the country, is many policy makers are making these decisions to reopen in phases and we're not sure how they're coming up with these decisions," said Asst. Prof. Avinash Collis, McCombs School of Business.
The researchers looked at things like employment numbers, revenue generation and even used cellphone data to access crowd movement.
"We wanted to provide the data and the framework to make these reopening decisions," he said. "We tried to look at how important these locations are to the economy and the consumers and also how dangerous these locations are when it comes to the spread of pandemics."
The researchers looked at things like employment numbers, revenue generation and even used cellphone data to access crowd movement.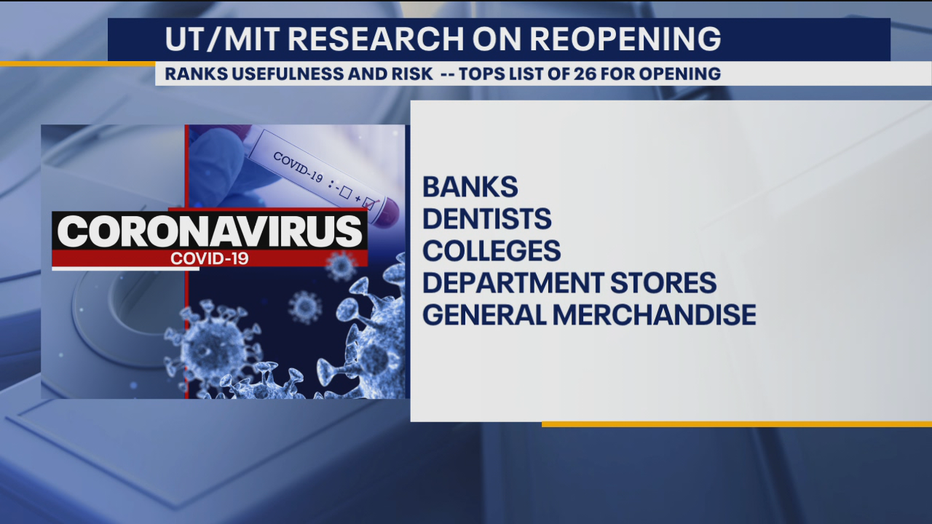 "This is anonymized cellphone location data at an aggregate level so we can see at a particular location how many people are there at a particular point in time," Collis said.
The top types of business they found it wise to open include banks, dentist offices, colleges and universities, department stores and general merchandise stores.
Those on the list of businesses to consider reopening last include sporting goods stores, gyms, hardware stores, cafés, juice bars or dessert parlors and liquor stores.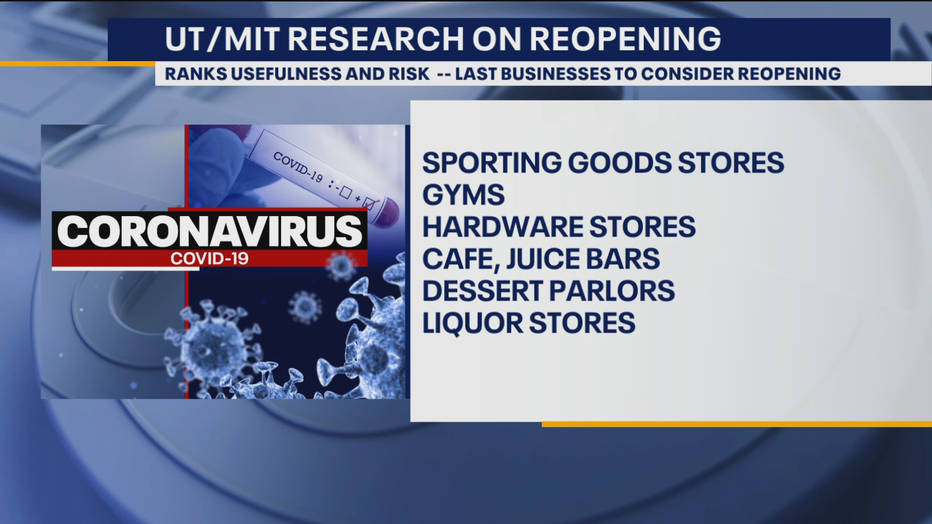 "So, when you look at these locations, they are not that valued by consumers compared to other locations. And they also don't generate as much revenue and don't employ as many people as some other types of locations. Many of these are also densely packed so they have a high chance of spreading the pandemic," he said.
Collis said the data from the month of February compared to today shows a decline in the number of people frequenting the riskiest businesses. People seem to be doing the same calculation in their head, he said.
"Before we used to think of social contact as free and you could go out as often as you wanted. But now you have to ration your visits and you have to pick which ones are more valuable and which ones are less. And people seem to be doing a good job by themselves," he said.
The group is also surveying people as to whether masks, plexiglass partitions and social distancing raises confidence about going into some places.
"Some people are more likely to go to these places with these precautions, but some are less likely to go to these places because they don't like, you know, the value of their visitation is not the same with the precautions in place," Collis said.
Researchers say they hope Texas, as well as other states, will use their findings going forward as a framework to decide how best and safely to reopen additional businesses.