Ready to debate: A guide to the Democratic 2016 candidates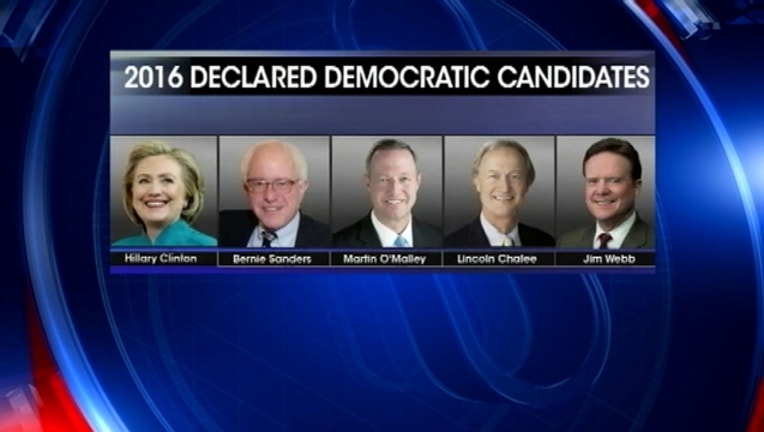 article
WASHINGTON (AP) — The Republican presidential contest has been aflutter for months, but now it's time for the Democrats to spread their wings before a big national audience.
Their first debate is Tuesday night on CNN. Grab your binoculars and bring along this field guide to the candidates.
___
HILLARY RODHAM CLINTON
Key features: Nearly everybody recognizes her. She's the only candidate who's lived in the White House already, as first lady.
A quick sketch:
— Daughter of a fabric store owner and a homemaker living in the Chicago suburbs
— Met her future husband and future president, Bill Clinton, at Yale Law School
— After serving as first lady, elected to U.S. Senate from New York
— Early Democratic front-runner in '08, she lost presidential nomination to Barack Obama
— Won both praise and criticism as Obama's first secretary of state
Also of note:
A steady drip is wearing on Clinton's air of invincibility as the front-runner for the Democratic nomination. The troubles include Clinton using a personal email account and server while at the State Department; the fatal attack on the U.S. diplomatic post in Benghazi, Libya, on her watch; and big donations from foreigners and political supporters to the Clinton family's charitable foundation.
Might Clinton be for you?
Perhaps yes, if you prefer a Democrat but with a more aggressive foreign policy than Obama.
Perhaps no, if you want a candidate who isn't already mired in investigations (Benghazi, and therefore emails).
Some other distinguishing issues:
— Wants to make public universities affordable and community colleges tuition-free
— Wants to build on Obama's health care law and lower the costs of prescription drugs and insurance deductibles
— Opposes an Obama initiative that she once supported: the Trans-Pacific Partnership trade deal
In a nutshell:
Establishment. Early favorite. Second-timer.
___
BERNIE SANDERS
Key features: He's an independent senator from Vermont who calls himself a Scandinavian-style democratic socialist.
A quick sketch:
— Son of a Polish immigrant father; raised in Brooklyn with the accent to prove it
— A student civil rights activist at the University of Chicago in the '60s
— Unseated the Democratic mayor of Burlington, Vermont, by 10 votes in 1981
— Elected to U.S. House in 1990, he's Congress' longest-serving independent
— An early and vocal opponent of the U.S.-led invasion of Iraq in 2003
Also of note:
Sanders is running for the Democratic nomination, but he's never been a Democrat. He represented an anti-war third party in four unsuccessful races for office in Vermont in the 1970s. He was elected Burlington mayor as an independent. He caucuses with Democrats in the Senate, but he's called both the Democratic and Republican parties tools of the wealthy.
Might Sanders be for you?
Perhaps yes, if you want a president to tackle income inequality as "the great moral issue of our time" and think democratic socialism is cool.
Perhaps no, if you want government to get smaller, not bigger.
Some other distinguishing issues:
— Create a "Medicare for All" single-payer universal health care program
— Raise the minimum wage to $15 an hour
— Make tuition free at public colleges and universities
In a nutshell:
Liberal. Populist. Politically independent.
___
MARTIN O'MALLEY
Key features: He's a former Maryland governor who champions data-driven leadership and sings, too.
A quick sketch:
— Father was a suburban D.C. lawyer, mother's been a congressional staffer for nearly three decades
— Met his wife while they were University of Maryland law students
— Elected Baltimore mayor at age 36, he took a statistics-heavy approach to reducing crime
— During two terms as governor that ended in January, he signed bills legalizing gay marriage, repealing the death penalty
— The longtime front-man of a Celtic rock band, he sometimes sings and plays guitar at campaign events
Also of note:
One of the achievements O'Malley boasts about — dramatically reducing Baltimore's high crime rate as mayor — is getting new scrutiny in a time of national "Black Lives Matter" protests. Critics contend that O'Malley's zero-tolerance crime policies fostered a culture of harassment and abuse of black citizens that they blame for the death of Freddie Gray while in Baltimore police custody in April.
Might O'Malley be for you?
Perhaps yes, if you want to shield people in the country illegally from deportation until immigration law is overhauled.
Perhaps no, if you dislike his history of raising taxes.
Some other distinguishing issues:
— Increase Social Security benefits for seniors by raising payroll taxes on high earners
— Toughen gun laws, including requiring a background check with fingerprints for every gun sale
— Tighten banking rules and break up big banks to end potential for bailouts
In a nutshell:
Policy wonk. Liberal. An alternative to Clinton.
___
JIM WEBB
Key features: A highly decorated Vietnam veteran, he's followed his own path as a lawyer, novelist, journalist, Navy secretary and one-term U.S. senator.
A quick sketch:
— Grew up on the move as Air Force officer's son; graduated U.S. Naval Academy in 1968
— Awarded numerous medals, including Navy Cross for heroism as a platoon commander in Vietnam
— Battle injuries forced him out of the Marines; wrote first of his military novels, "Fields of Fire," in 1978
— Named President Ronald Reagan's Navy secretary; resigned to protest spending cuts
— Won 2006 Senate race in Virginia, running as a Democrat who had opposed invading Iraq
Also of note:
Some of Webb's writings could haunt his campaign, especially among women and minority voters. He's expressed regret for a blunt 1975 magazine piece against admitting women to the Naval Academy. He opined that affirmative action should be only for black Americans, not other minorities. Amid recent debate over removing Confederate flags and monuments, he urged people to remember "that honorable Americans fought on both sides." He's also written some racy prose as a novelist.
Might Webb be for you?
Perhaps yes, if you want a champion for the troops who's cautious about military ventures.
Perhaps no, if you want a candidate who backs President Barack Obama's nuclear agreement with Iran.
Some other distinguishing issues:
— Impose a doctrine limiting the circumstances under which the U.S. would use military force
— Stop incarcerating people for nonviolent drug crimes
— Overhaul the tax code to benefit workers, while also reducing the corporate tax rate
In a nutshell:
Former Republican. Combat veteran. Outsider appeal.
___
LINCOLN CHAFEE
Key features: A former Republican senator, he switched to the Democrats while serving as Rhode Island governor.
A quick sketch:
— Son of John Chafee, who was a Rhode Island governor and senator with a long political lineage
— Earned classics degree from Brown University, then spent seven years shoeing racehorses
— Elected mayor of Warwick in 1992; appointed U.S. senator when his father died in office
— Elected to his Senate seat in 2000 but lost re-election bid six years later
— Quit Republican Party, ran for governor as an independent, became a Democrat in office
Also of note:
Chafee long stood out as a liberal Republican in an increasingly conservative party. In 2002, he was the only Republican senator to vote against going to war in Iraq, and he's making that a cornerstone of his campaign. As an independent governor, he backed Barack Obama for president twice. He joined the Democrats in 2013.
Might Chafee be for you?
Perhaps yes, if you want to reinvigorate the United Nations and "find a way to wage peace."
Perhaps no, if you don't want the U.S. to seek alliances with Russia or Iran or consider talking with Islamic State militants.
Some other distinguishing issues:
— Ban the death penalty
— Drop all charges against fugitive National Security Agency leaker Edward Snowden
— Switch the U.S. to the metric system
In a nutshell:
Political pedigree. Party switcher. Unconventional.