OnlyFans model arrested, charged with murder of Plano man
HILO, Hawaii - Law enforcement in Hawaii arrested social media model Courtney Clenney on Wednesday for a charge of second-degree murder with a deadly weapon.
Clenney, who goes by Courtney Tailor online and has more than 2 million followers on Instagram, is accused of fatally stabbing her boyfriend, Christian "Toby" Obumseli in the chest during a domestic dispute in their Miami apartment back on April 3.
Obumseli, 27, attended Plano East High School and Abilene Christian University.
On Thursday, authorities held a new conference to reveal more about this violent and toxic relationship. Police said the two-year relationship was "tempestuous," and ended with the 26-year-old stabbing Obumseli.
"Evidence gathered during the investigation of Christian's death shows that since November 2020, he and the defendant have been in an extremely combative relationship," Miami-Dade State Attorney Katherine Fernandez Rundle said.
Clenney's attorney said she acted in self-defense when she killed Obumseli, but investigators said Clenney was the aggressor.
Clenney told police she grabbed a knife after her boyfriend shoved her against a wall by her neck. Clenney claimed after he let her go, she then threw the knife at her boyfriend. 
Clenney did not have any injuries to corroborate her account, according to her arrest warrant. Authorities said she even admitted the stabbing "wasn't justified."
Investigators said Obumseli's chest wound was three inches deep, at a slightly downward angle, adding that the depth and trajectory of the blade ruled out that the knife was thrown.
"Clenney admitted to causing Christian's injury, and provided inconsistent accounts about the incident itself," Rundle added.
Video from TMZ shows Clenney in handcuffs, covered in blood on the day of the incident. She was released after consultation with the State Attorney's Office, but detectives said her story didn't add up.
WARNING: VIDEO MAY BE DISTURBING TO SOME VIEWERS
According to Clenney's arrest warrant, Obumseli could be heard repeatedly saying that he was dying in a 911 call.
"Christian can be heard in the background saying, 'I am dying,' and he was losing feeling in his arm. The defendant is heard saying, 'I am so sorry baby,'" Rundle said.
Police stated that neighbors at the couple's apartment complex had previously complained about loud fights and that the complex was taking steps to evict them.
Surveillance video showed Clenney attacking Obumseli in the elevator of their apartment complex two months before the killing. 
READ MORE: Anna man gets life sentence for wife's murder
An arrest warrant for Clenney wasn't signed until August 4. By then, Clenney was out of the state.
When asked why it took so long to press charges, Miami police chief Manuel Morales told reporters, "You only get one shot. You want to get it right."
Investigators said this was a challenging, cross-country investigation. 
Clenney's attorney said she was in Hawaii to get treatment for PTSD and substance abuse.
Hawaii County police said in a statement they assisted the U.S. Marshals Service as they arrested Clenney in Laupahoehoe, which is on the Big Island. Officers used an arrest warrant issued by Miami-Dade County, Florida.
Clenney remains in custody in Hawaii. She appeared before a local district court there, where she waived her right to extradition, meaning she will be taken to Florida as soon as possible.
"At this time, all the steps are being taken as we speak for her to return to Miami to be held accountable for this murder," Rundle said.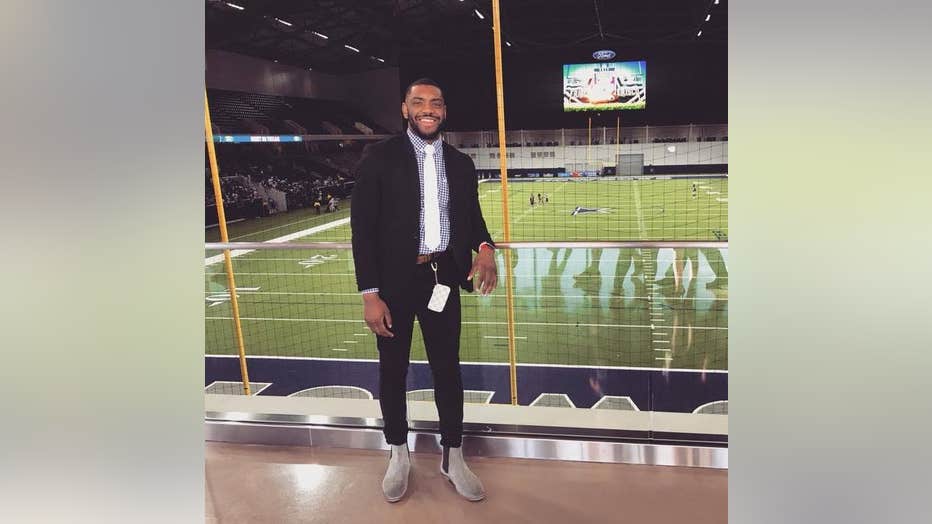 (Go Fund Me/In Memory & Justice for Christian Toby Obumseli)
For months, Obumseli's family continued to push for Clenney's arrest.
Obumseli's brother and cousin from Texas stood next to their family attorney at the news conference Thursday. It was a day they said they've been waiting for. 
"This is such a relief to the family," family attorney Larry Handfield said. "It gives restored hope, and even though delayed, justice will still come."
The Associated Press contributed to this report