One dead, two injured in Carrollton after accused car thief runs red light
CARROLLTON, Texas - Carrollton police have arrested a man accused of stealing a car in Dallas and causing a deadly crash.
Joseph Warren is charged with murder for the crash that killed one man and injured two others.
Police say Rohit Khanna, 29, was killed at the scene and two of his friends also in the car remain hospitalized, with one in critical condition. 
"I don't have words to describe what kind of a man he was because it's a rare find for someone with a heart of gold," said friend Swastik Jindal. 
"He was just extraordinary, I cannot explain how good he was in his passions," said Shruti Khanna, cousin.
Friends say Rohit Khanna was supposed to fly home to India on Friday to see his family for the first time in four years. 
He was out with friends on Monday buying clothes and gifts for the trip when police say Warren blew through a red light at Keller Springs Road and Willowgate Lane in Carrollton, hitting Khanna's vehicle. 
"Accomplishing so much for the reason he came to the U.S. and going back, it was a big thing for the family. We never knew he's going back home this way," Jindal said.
Police say Warren was driving a Lexus he stole just thirty minutes earlier outside a convenience store near Dallas Love Field.
He was booked into jail Wednesday after being released from the hospital.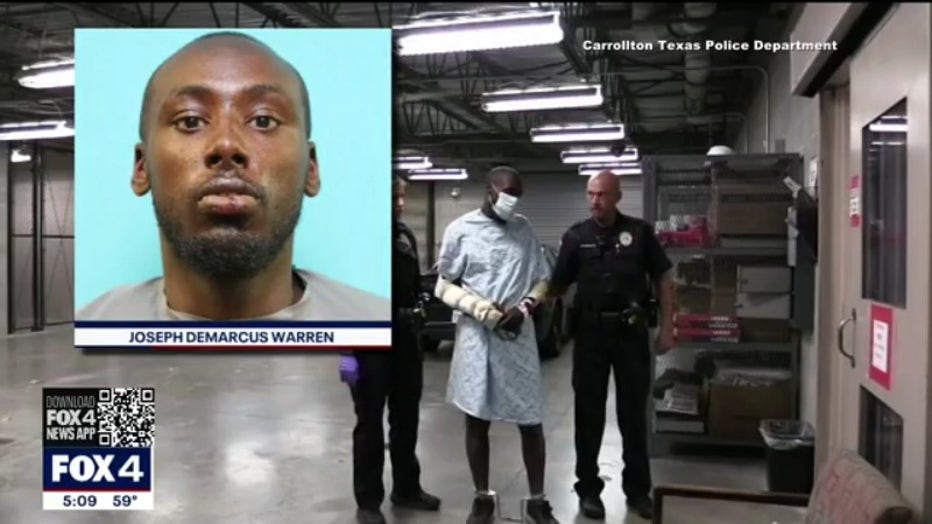 "Regardless of whatever information we get about the person, it's not going to bring him back," Jindal said. "We're just sad about the fact something like that could happen to someone we knew."
Khanna's two injured friends were taken to Texas Health Presbyterian Plano. 
"One of them seems to be super critical. He's had several brain injuries, maybe injuries to his spine too, had multiple ribs cracked," Jindal said.
All three friends had come to the United States within the last few years to work on their Masters degrees. The families are now asking for prayers to help support the injured victims. 
"These people came here to the states for a dream, being international students," Jindal said. "Start building capital for themselves, become better humans, start a family. And all of those are shattered right now."
Khanna's friends held a memorial service in Dallas on Wednesday. Loved ones have already raised over $88,000 to help send him back home to India as well as pay for medical expenses for his injured friends.