Addison Oktoberfest, Grapevine's Grapefest return with live events this weekend
ADDISON, Texas - The Addison Oktoberfest and the Grapevine Grapefest are back.
The two annual festivals in North Texas were canceled last year due to the pandemic. Now that vaccines are readily available, they will go on.
In Grapevine, there's much more than wine to be found at the 35th annual Grapefest. 
Hundreds showed up for opening day on Thursday, from visitors and vendors to artists and musicians who missed out on profits when the pandemic canceled the 4-day event in 2020.
It's now back at a time when new cases and hospitalizations, especially in Tarrant County, are surging.
On Thursday, Tarrant County saw more than 1,500 new cases and more than a quarter of all hospital beds occupied by COVID-19 patients.
This year, organizers touted the outdoor atmosphere, where it's harder to transmit the virus,  along with safety protocols in place.
"At each entrance gate, we have masks available for festival visitors," said Grapefest spokesperson Emily Henvey. "We do encourage visitors who have not been vaccinated to wear a mask. We're also encouraging visitors to use hand sanitizer. We have that throughout the festival as well as handwashing stations."
For some, the sights and sounds are a welcome treat.
Katie Bird says she's happy to get her five kids back out for some fun.
"We live about a mile away. We love Grapefest. We're happy to have it back," she said.
Edgar Butler and his wife are taking a more cautious approach wearing masks as they take in some wine-making tradition, foot traffic and more.
"Just be careful," he said. "Everybody has their opinion about masks, no masks, vaccine, no vaccine. It's just up to the individual."
The festival includes four stages of live music, a carnival, fun zone and pickleball for the whole family.
Some of the big wine events and tours include the People's Choice Wine Tasting Classic, grape stomping and a champagne cork shoot-off.
The festival along Main Street in historic downtown Grapevine kicks off with free admission Thursday. Tickets are $10 for adults through the weekend.
LINK: www.grapevinetexasusa.com
Organizers for the Addison Oktoberfest said it has been recognized as one of the most authentic Oktoberfest celebrations outside of Munich.
RELATED: Munich's Oktoberfest celebrations canceled amid coronavirus pandemic: 'The risk is just too high'
It features polka bands, dachshund races, bier barrel rolling, a German yodeling contest, food vendors, shops, activities for the kids and, of course, beer.
Masks are still strongly encouraged for people who have not been vaccinated. Food vendors will also offer mobile ordering to reduce long lines.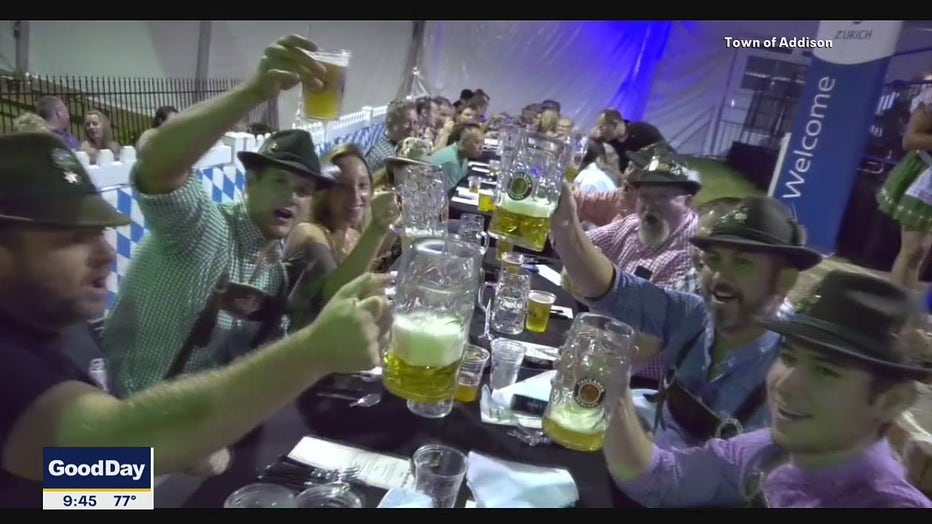 The festival starts Thursday and runs through Sunday at Addison Circle Park.