Northwest Dallas hair salon shooting leaves 3 women injured
DALLAS - Three women were shot at a hair salon in the Koreatown area in Northwest Dallas.
Police are investigating whether a customer dispute sometime before the attack had anything to do with it. Meanwhile, federal agents are trying to determine if it was a hate crime.
It happened around 2 p.m. Wednesday at Hair World Salon on Royal Lane. There are several blocks of mostly Asian-owned businesses along Royal and neighboring streets in that area.
None of the victims suffered life-threatening injuries, and it's still unclear what led to the attack.
Dallas police only have a vague description of the shooter they're looking for. But they are looking into the possibility it may have been connected to a customer who was refused service at the salon.
Police say the shooter parked near the business, walked inside and shot three Korean women.
"Stopped his vehicle on Royal Lane and walked across the parking lot armed with a weapon. He entered the business and then began shooting multiple rounds," said Dallas Police Sgt. Warre Mitchell. "They were transported to an area hospital."
The shooter's motive is unclear. Police have only described him a Black male driving a maroon-colored minivan or similar vehicle. It's unclear if anyone else was with him.
The victims reported the shooter made some quick comments, but details weren't released.
"When he came in, he shouted something that we haven't figured out yet, and then he started shooting," Mitchell said.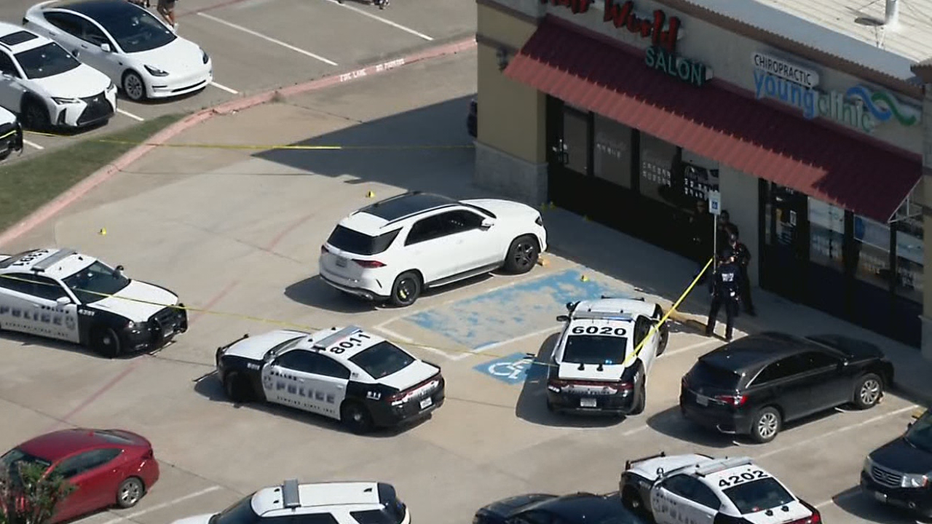 Gary Jung operates a neighboring business in the Koreatown area of Dallas, where there are many Korean-owned businesses.
"Something misunderstand," he said.
Jung says there was an earlier dispute inside the salon when stylists told an African American woman that they did not know how to cut her hair.
Police say they're looking into reports of an earlier dispute, but they cannot confirm if it's related to the shooting.
"We're not ruling it out, but right now I don't want to relate the two unless I'm for sure," Mitchell said.
Police were asked if there's reason to believe the shooting might be a hate crime.
"At this time, we do not believe that this is a hate crime-related incident," Mitchell said. "But, again, we're still in the early stages of the investigation."
Hate crimes are investigated by the FBI. Federal members were at the scene, they say, only assisting in case information leads them to investigate as a hate crime.