Motive in Arlington Lamar High School student's murder remains unclear
ARLINGTON, Texas - The high school student murdered on campus in Arlington last month would have celebrated his 17th birthday this week. His family is trying to make sense of just why he was gunned down allegedly by a 15-year-old boy.
Like police, the boy's mother is trying to determine why he was murdered.
Ja'Shawn Poirier, 16, was killed outside Arlington Lamar High School last month police say by a 
15-year-old student.
Rashone Jacob is Ja'Shawn's mother. She's still numb more than a month after police say her son was killed by another teen outside Lamar High.
The shooting happened while students were waiting for the doors of the school to open.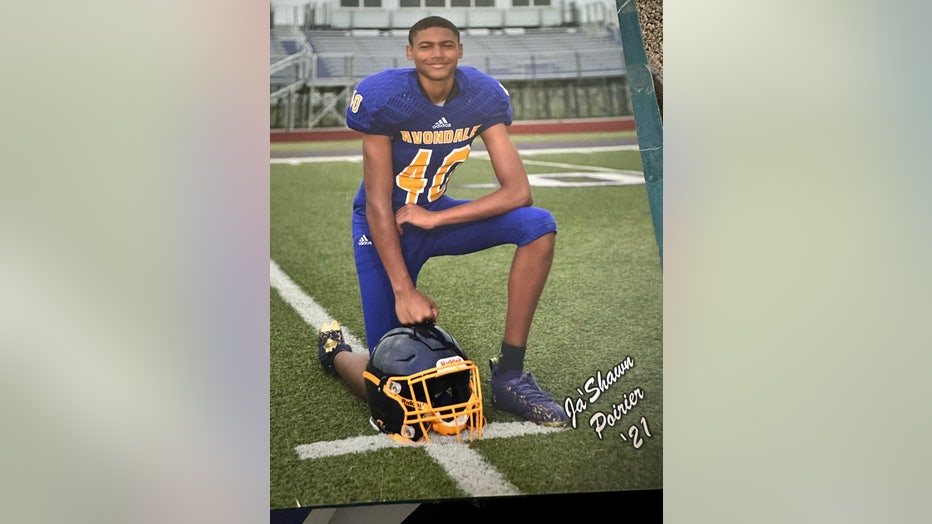 "I normally take him to the bus stop. That particular day, I actually went to work early, and my daughter and her friend dropped him off at school," Jacob said. "And less than ten minutes, it happened." 
Ja'Shawn's family moved to Texas from Michigan last summer. 
Jacob says she spoke to her son on the phone before he left the house that morning. She called twice to make sure he arrived, but he didn't answer. That's when she knew something was wrong." 
Arlington investigators say the 15-year-old shooter brought a shotgun in a book bag. They say he shot and killed Ja'Shawn, and a teen girl was also hit but had non-life-threatening injuries. 
Jacob says she's unsure about whether her son knew the shooter but feels he was not the intended target.
"My son wasn't targeted. It wasn't over no female. It was a random shooting," she said.
Police believe the shooting was a targeted attack, although they have not said who the intended target was. They do not believe the shooter intended to shoot more people at the school.
There has been nothing in the charging documents or from police yet about a possible motive.
The teen suspect is charged with capital murder and aggravated assault and remains in a juvenile detention center. 
The boy's father, who came to the first detention hearing, is now in federal custody. 
A search warrant the day of the shooting resulted in the discovery of three guns. The boy's father is a felon, so it's illegal to possess weapons. 
The shotgun used in the murder at the school was purchased by a relative of the boy's father, but we don't know how the teen got the weapon. 
"Whatever the judge decides to give him. If he gives him life in prison, that's what you need to take because you took a life," Jacob said. "The kid knew what he was doing. So it was premeditated. So you need to serve the consequences."
The gunman remains in juvenile detention because the judge says until he follows all the behavior rules set for him, he will not release him. 
The next hearing is next week.