Mother of teen killed at Haltom City park still coping with loss of her son
HALTOM CITY, Texas - The sound of ducks makes Elizabeth Lopez feel her son's presence. At a young age, Mr. Ducky was her son's favorite stuffed animal.
"He was my baby," she said.
But at the age of 16, her baby boy, Daijhaun Jones, was shot and killed in broad daylight at a basketball court at Haltom City's North Park last week.
RELATED: Two people found shot to death at Haltom City park
"I was just so upset, and I was just like frantic," Lopez said.
Lopez, who works overnights at a hospital and was sleeping when her son was killed that afternoon, said she visualized her son's killing while dreaming.
"I literally saw my son take his last breath," she recalled. "I saw his face on the pavement. You know, I saw him say, 'I'm sorry mom,' you know…I saw his face on concrete, closing his eyes, talking to me and saying a prayer."
Jones' 17-year-old friend, Isaiah Mendoza, was also killed. Police don't know what the motive was. No one has been arrested.
RELATED: Identities released of two teens killed at Haltom City park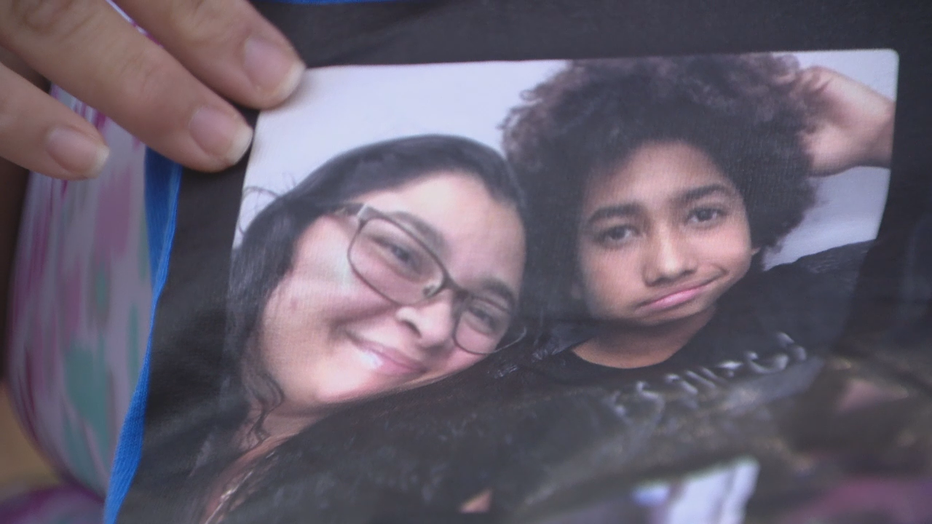 "Even through tragedy, God always has a plan. I've cried a whole ocean. I can't even cry anymore," Lopez said.
She said her son, a student at Birdville High School, was the youngest of three children. He was outgoing and loved to joke around, but a different tragedy — his father's suicide in 2018 — changed him.
"He was angry. He would get into fights at school. He turned into a total different kid. A total different kid," Lopez recalled.
A single mother, she admits she sometimes was forced to choose work instead of watching her teenage son.
"I would work crazy overtime, you know," she said. "You have to choose are you going to pay bills or are you going to be there?"
She doesn't know what type of behavior led her son to the basketball court that day, but she forgives whoever took her son's life.
"Something hit me and I was like, 'Uh my gosh, that dream was real. My son is gone. My son is gone,'" Lopez said.
At the same time, she hopes police are able to find them.
"Like I said so many times, I'm so grateful for his life," she said.
In the meantime, she's trying to smile through the pain. 
"The love that we shared. The bond. Oh my gosh. It's amazing," Lopez said.
Searching for subtle reminders that her baby boy is watching over her.
"Like, sometimes, he even talks to me. He's like, 'Mom, I'm okay, I'm fine," she said.