Mixed vegetable fettuccine with basil pesto alfredo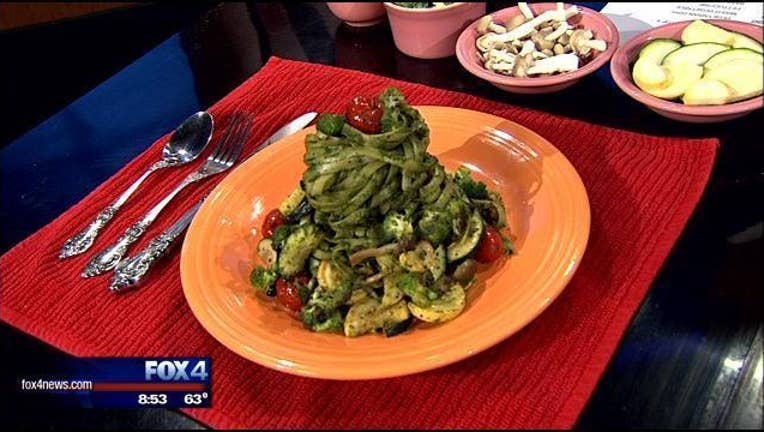 article
4-6 oz fresh fettuccine noodles

Pesto:
1bunch basil leaves
1/4 cup pine nuts, toasted
3 cloves garlic
1/4 cup Parmesan cheese
1/2 cup extra virgin olive oil
Salt and pepper

Alfredo:
2T butter
2 garlic cloves, minced
1/4 yellow onion, minced
2 cups half and half
1/2 cup Parmesan cheese
Salt and pepper

Vegetables:
Oil
Salt and pepper
Zucchini
Yellow squash
Cherry tomatoes
Broccoli
Mushrooms
Or, whichever vegetables you desire!

Directions

Pre-heat salted water and bring to a boil.
For Alfredo- melt butter in small sauce pan over medium. Sweat garlic and onions. Add half milk and cream and cook over medium-low heat stirring often until reduced by one third. Add Parmesan and salt and pepper. Set aside.
For pesto- while Alfredo is reducing, add all ingredients for pesto-except olive oil- to a blender. Start blender on low and slowly go to high while adding olive oil to blender. Add just enough oil to help blend all the ingredients together until a loose paste is made. Season with salt and pepper.
For vegetables- cut into desired shapes and sauté in a pan on high heat. Make sure to get good color on vegetables and season well with salt and pepper. Deglaze with water to help soften raw, fibrous, vegetables (broccoli, asparagus, Brussels sprouts, carrots).
Cook fresh pasta in boiling, salted water.
Drain pasta and add to sauce.
Add vegetables to pasta.
Add fresh vegetable pasta to plate, top with Parmesan cheese, and grab a fork to enjoy your dinner tonight!