Man on trial for murder of innocent Dallas 13-year-old in gun battle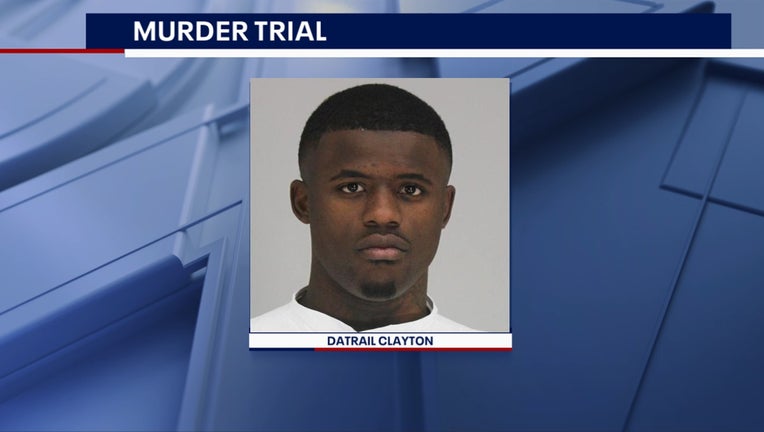 DALLAS - A murder trial is underway for a man accused of killing an innocent 13-year-old during a shootout outside a store in Pleasant Grove.
Malik Tyler was shot in the back in 2019 outside of a Bruton Road convenience store. The 13-year-old and several friends were on their way home from school after getting snacks at the store when the gunfire started.
RELATED: Affidavit: Slain Dallas 13-year-old shot in the back by stray bullet
Malik started running and was hit by a stray bullet. He later died.
Police later arrested Datrail Clayton and charged him with Malik's murder. 
Defense attorney Paul Johnston says it was not murder because Clayton had no intent to kill or shoot Malik. He claimed Clayton was defending himself from gunfire.
Firearms expert April Kendrick examined the bullet recovered in Malik's autopsy.
"They were identical as having been fired from the same unknown firearm," she said.
Kendrick testified that two bullets — one from the autopsy and another at the scene — came from the same gun, but it was not the glock recovered which she tested. She said it was possible it came from a second gun believed to be involved, but she could not be sure.
"In the realm of possibility, there's a whole lot of things that could happen," Johnston said.
Johnston pressed that maybe it was a third person with a different gun who fired the shot that killed Malik and not his client.
"When you compare the cartridge cases in four through nine and cartridge cases, you were not able to identify them as being consistent from the same gun, correct?" Johnston asked.
"Correct. That was inconclusive," Kendrick said.
Dallas Homicide Detective Eric Barnes took the stand and testified that he knew Clayton from growing up in Pleasant Grove.
Johnston brought out that Clayton call Barnes the day after the shooting.
"He called you and offered you information about the events that had occurred. Did he not?" Johnston asked the detective. 
"Yes, sir," Barnes said.
Dallas Homicide Detective Jacob White was the lead investigator in the case. He told the court he gathered and looked at all the surveillance video. Under questioning for prosecutors, he said based on the video he knew who he was looking for.
"Was he your first suspect as far as the shooter in this case?" A prosecutor asked.
"Yes, he was," White said.
Tips from FOX 4 viewers who watched Shaun Rabb's Trackdown led police to arrest a second suspect in the shootout -- Tyler Buchanan, of Longview.
MORE: 2nd suspect arrested for gun battle that killed innocent Dallas 13-year-old
If convicted, 24-year-old Clayton could face five years to life in prison.
READ MORE: 
Memorial held for 13-year-old boy killed while walking home in Dallas
Community event promoting change to be held at site where Malik Tyler was killed