Magazine for tween girls apologizes amid swimsuit backlash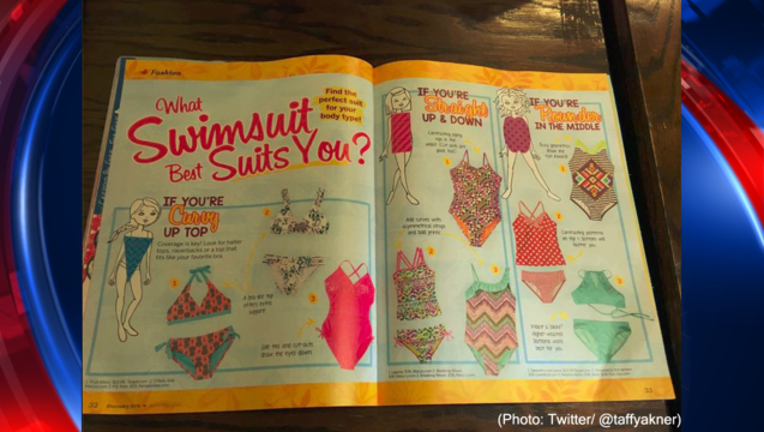 NEW YORK - The publisher of a magazine aimed at tween girls apologized Tuesday for offering adult-like tips on choosing bathing suits based on size and curves, unleashing a body shaming backlash.
Girls who are "curvy" on top, for instance, were advised in the latest issue of Discovery Girls to go for a one-piece with other side cutouts or ties to draw attention to elsewhere. Big block patterns were offered for those rounder in the middle — all under the headline: "What Swimsuit Best Suits You?"
The magazine is aimed at 8- to 12-year-olds.
After taking heat on Twitter and other social media, founder and publisher Catherine Lee issued a lengthy apology on the Discovery Girls Facebook page. She, too, expressed shock that such an approach was published. She called herself the mother of the first Discovery Girl, in 2000.
"I am in total agreement with all of you regarding this article, so much so that I wanted to make this letter as public as possible," she wrote. "We want to make sure that our girls know that any article that makes you feel bad about your body is not a good article, and should be questioned."
The article was supposed to be "about finding cute, fun swimsuits that make girls feel confident, but instead it focused on girls' body image and had a negative impact," she wrote. "Nobody knows better than Discovery Girls how impressionable our girls are at this age and we are ALWAYS mindful of this."
The magazine has received hundreds of thousands of letters over the years from "girls sharing their insecurities about their bodies," Lee added.
She said the magazine is "not immune to making mistakes, but we are always willing to get better and learn from our mistakes."
You can read the full post below: