Teen killed after suspected drunk driver crashed into White Settlement home remembered as a 'Firework'
WHITE SETTLEMENT, Texas - About seven months after an 18-year-old was killed by a suspected drunk driver that crash through her home, her family is celebrating her life.
Katey Kirkland was inside her family's White Settlement home just before 6 p.m. back on August 7, 2022, when police said 64-year-old Donald Gruber was driving while intoxicated and crashed into the house.
Katey's father, Kevin, is still in the hospital recovering from his own injuries.
There was a celebration of life for Katey on Saturday, as the family tries to start putting the pieces of their lives back together.
A firework is how Katey's mother describes her.
"Because she was born on the 4th of July and her favorite song was 'Firework' by Katy Perry," Amy Kirkland said.
The 18-year-old's life was ended last August, when Gruber drunkenly drove his truck through her family's home, according White Settlement police.
Katey was in her bedroom. Her father was in another bedroom, while her mother was in the living room.
"So I feel like I was reliving a lot of that, this week," Amy said.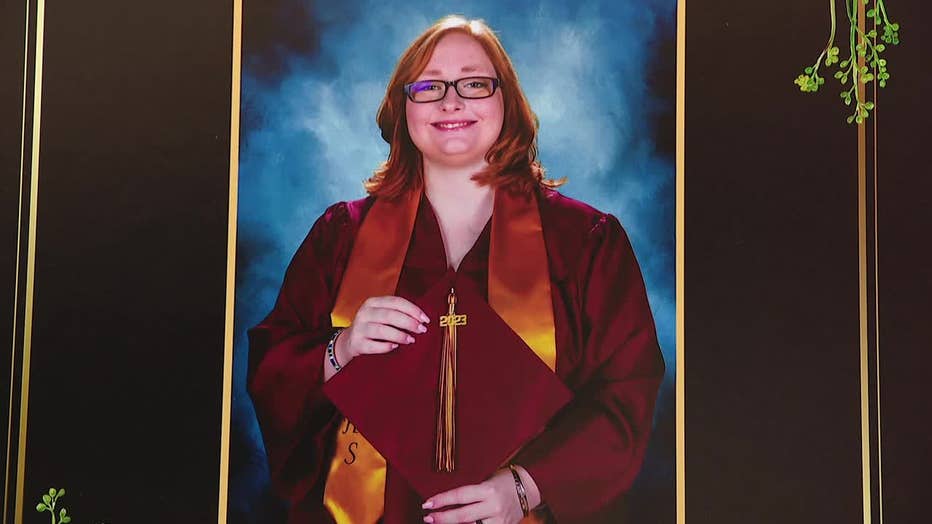 Saturday was a celebration of Katey's life at Saginaw High School. It's where she was entering her senior year. It's also where her mother is a teacher. 
"How was 18 her last Birthday? I want more. I want her back," her mother added.
There's an understandable amount of pain extending throughout the community.
"The entire Kirkland family has a place, not just in my heart, but in the White Settlement Police Department, the White Settlement Fire Department, and the city of White Settlement," White Settlement Police Department Det. Carly Page said.
Katey's celebration comes with a proclamation from Tarrant County commissioners, naming March 25, 2023, as Katey "Junebug" June Kirkland Day.
"It's very heartwarming," her mother said.
Dozens of people shared stories of Katey with her mother and what they miss the most.
"Her laugh. Her smile," her mother said.
They believe Katey had immeasurable potential.
"I'd much rather be planning her graduation party than planning this," Amy added.
But some say, sometimes, the brightest souls are almost too bright for this earth.
"Because her life was so brief and short. Like a firework," her mother added.
Gruber has an evidentiary hearing next week. 
He's been indicted on intoxication manslaughter and intoxication assault. 
His girlfriend was later also charged with intoxication manslaughter. She was the passenger in his truck and told police she took the wheel after Gruber blacked out, but that charge was dropped.