House Speaker Ryan rules out presidential bid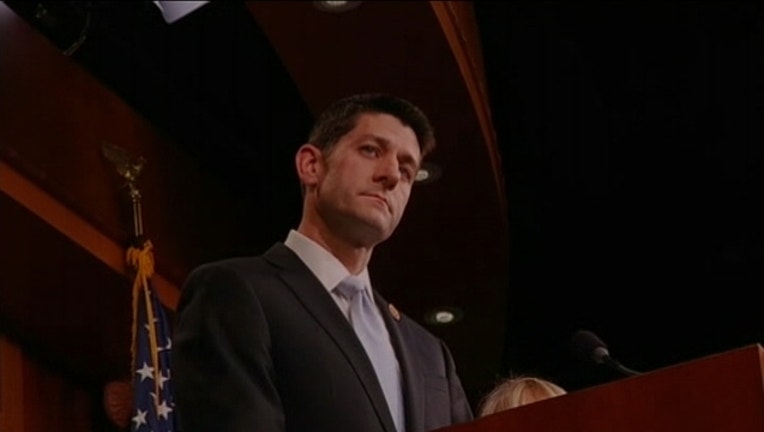 WASHINGTON (AP) — House Speaker Paul Ryan on Tuesday definitively ruled out a bid for president this year, insisting that the party's choice should emerge from the group of candidates who pursued the GOP nomination. "Count me out," he said.
In a brief news conference at the Republican National Committee headquarters, the Wisconsin Republican sought to tamp down rampant speculation that he could end up as the party's standard-bearer if front-runner Donald Trump and the other candidates flame out at a contested convention.
"We have too much work to do in the House to allow this speculation to swirl or have my motivations questioned," said Ryan, who was the 2012 vice presidential nominee. "Let me be clear: I do not want, nor will I accept, the Republican nomination."
Ryan's comments come as a contested convention looks likelier by the day. Ryan and his aides have continually denied the speaker has presidential ambitions this year, but their statements have not put the issue to rest. That's partly because Ryan also denied he wanted to be speaker last fall after then-Speaker John Boehner announced his resignation, but he ended up with the job anyway.
Tuesday's appearance was an attempt to shut down the speculation once and for all, and end what aides said has become a major distraction to Ryan's work as speaker. Yet it may not be enough to quiet the talk about Ryan, given the unpredictable twists of the GOP presidential primary.
"So let me speak directly to the delegates on this: If no candidate has a majority on the first ballot, I believe you should only choose a person who actually participated in the primary. Count me out," Ryan said. "I simply believe that if you want to be the nominee — to be the president — you should actually run for it. I chose not to. Therefore, I should not be considered. Period."
Trump looks unlikely to accumulate the necessary delegates to clinch the nomination ahead of the July Republican convention in Cleveland. That would allow his lead challenger, Texas Sen. Ted Cruz, to make a play for the job. A third hopeful, Ohio Gov. John Kasich, trails in the delegate count.
Yet party leaders fear neither the erratic Trump nor the polarizing Cruz could beat likely Democratic nominee Hillary Clinton in November. They also fear the GOP won't be able to hold onto control of the Senate with Trump or Cruz at the top of the ticket.
So if neither Trump nor Cruz can get the delegate votes necessary as balloting progresses at the convention, chaos could result — and along with it, the potential for some other Republican who's not currently running to emerge. As a young and charismatic conservative, popular with donors and with some conservative activists, Ryan's name has been at the top of that list for months.
Ryan is also seen as a possible candidate in 2020. Early in the campaign season he announced he would not be making a run in 2016, yet some of his own actions fueled the talk. He's delivered high-profile speeches calling for a more principled politics, and his staff uses social media to promote developments as varied as Ryan's recent trip to the Mideast and his decision to "give up impatience and anxiety" for Lent.
Ryan insisted Tuesday that such moves have been aimed at communicating on behalf of House Republicans, though he has yet to unveil the policy proposals he's been promising. Removing the presidential speculation would put Ryan's focus squarely on his day job as the leader of the House, and he faces several key tests soon.
In a long-brewing embarrassment, it's become plain that Ryan has all but given up hope of passing a budget for the upcoming budget year. Ryan orchestrated four budget efforts as chairman of the Budget Committee over 2011-2014 but now can't produce one as speaker. Boehner, his predecessor, presided over five successful budgets.
Under the government's arcane budget law, the House is supposed to produce a budget by April 15. But a tea party revolt over Ryan's embrace of last year's bipartisan deal with President Barack Obama to increase spending by the Pentagon and domestic agencies has left him well short of the votes he needs.
___
Associated Press writers Andrew Taylor in Washington and Scott Bauer in Milwaukee, Wisconsin, contributed to this report.