Funeral held Monday for Grand Prairie police officer killed in the line of duty
GRAND PRAIRIE, Texas - A funeral was held on Monday Grand Prairie Police Officer Brandon Tsai.
Tsai, 32, died in the line of duty last week after he crashed his police cruiser during a chase with a driver who had a fake temporary license plate.
Officer Tsai was honored at his funeral at Gateway Church in Grand Prairie.
Suspect arrested in Grand Prairie police officer's death
Members of Tsai's family from as far away as Hong Kong attended the service.
Officers from the Los Angeles Police Department also attended. Prior to joining the Grand Prairie Police Department in January, Officer Tsai spent five years as a member of the LAPD.
"Brandon took the oath to protect the citizens of Los Angeles and became a Los Angeles police officer," explained Grand Prairie Police Chief Daniel Scesney. "He would serve the people of Los Angeles for almost five years during some of our nation's most tumultuous times."
In early 2022, a cross-country move brought Tsai to North Texas. 
"He had a true servant's heart. Then Brandon made the decision to start his law enforcement career over again here in Texas with us, which I'm sure was an incredibly difficult decision to make," Scesney said. "He came here with his girlfriend, Brittany, and her beautiful 7-year-old angel, Tinslee. As further testament to Brandon's character, he embraced Tinslee as his own."
Tsai was killed on Nov. 14 when he crashed his patrol car while pursuing a vehicle with an illegal paper tag. The suspect in that chase, 22-year-old Colbie Hoffman, turned himself in two days later.
"I don't want to stand here and talk to you about the day of the accident, but I just want the family to know we all did our best," an academy colleague said during the funeral. "Every unit got to the scene within seconds, and we all tried everything that was physically possible to help him."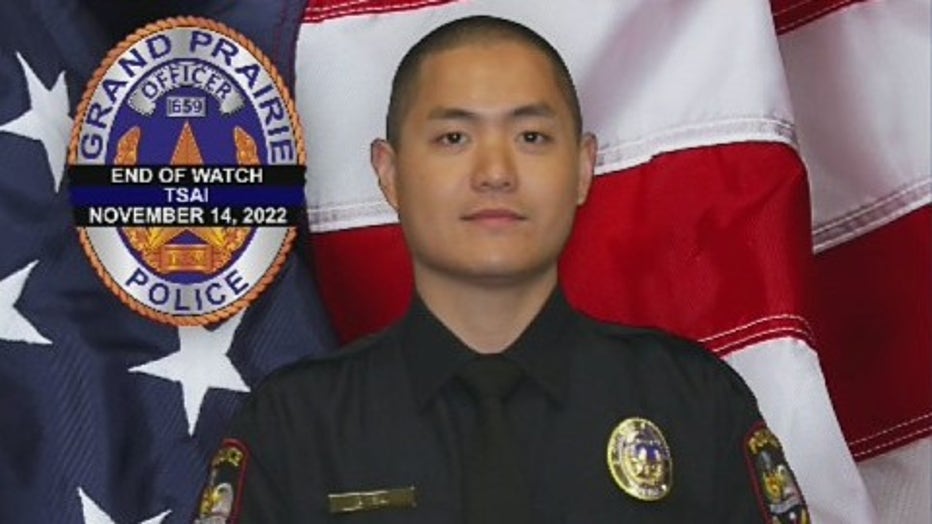 The somber service was punctuated by solemn words, uplifting stories and heartfelt remarks from Officer Tsai's sister.
"I cannot describe the pain," she said. "Although my family and I are hurting, it truly warms my heart to know how welcomed, loved and respected he was wherever he went."
"Brandon Tsai volunteered to be a guardian of our democracy, but he didn't volunteer to die. He agreed to risk his life so others would not have to. So I'm asking that you please pledge to his valor, his life and his sacrifice are never forgotten," Scesney said. "Officer Brandon Tsai has now been sworn in to protect the streets of heaven."
Following the funeral, a procession was held to take Officer Tsai's body to Wade Funeral Home in Arlington.
Hundreds attended a vigil for Tsai was held on Friday night.