Governor Greg Abbott outlines Texas' plans to increase bed capacity for COVID-19 patients
AUSTIN, Texas - Friday afternoon, Texas Governor Greg Abbott outlined the state's plans to increase bed capacity if it's needed.
Those plans include overflow hospitals already set up, like the Kay Bailey Hutchison Convention Center in Downtown Dallas.
They also include unconventional resources, like hotels.
Gov. Abbott said Texas will have ample supplies for those on the front lines, adding that his COVID-19 strike force now has more than a million face masks. He said that across the state, there is hospital bed capacity.
About 40 percent of the state's hospital beds are available.
More than 55,000 people have been tested statewide, while almost a tenth – 5,478 - have been positive for COVID-19.
There have been 91 Texans who have died from the disease, but the governor said measures he has taken to increase space in the states hospital systems makes them ready statewide in terms of hospital bed capacity.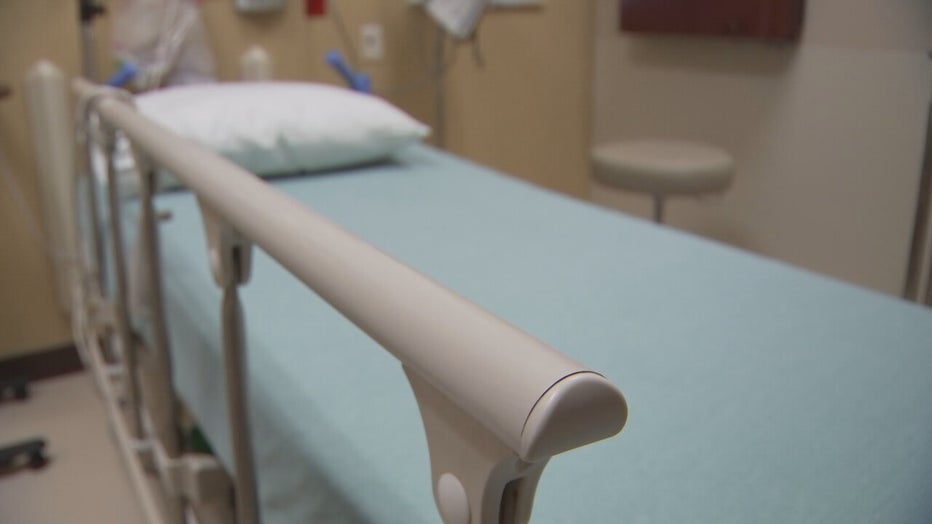 RELATED: Coronavirus coverage
The governor used charts to show how much hospital bed space has increased since March 18th, by 142 percent.
"If you look at the far left column that's dated March 18, it shows as of that time in Texas we had 8,155 beds that were then available," Gov. Abbott said. "As of today, we have 19,695 hospital beds if they were all needed to treat people with COVID-19."
That number also counts more than 2,100 intensive care unit beds.
Dr. John Zerwas, Health Affairs Chancellor for the University of Texas system, sat six feet from the governor, and detailed how hospitals stood up by the military, like at the Kay Bailey Hutchison Convention Center, and other off-site locations are primarily for patients who don't need much medical attention or they're coming out of coronavirus sickness.
The state breaks how the medical community can surge its capacity down by five levels, with one end of the spectrum your traditional beds, and the other end including federally set up facilities, or even places like hotels.
"These are places you'll send patients when they're not requiring a lot of extra care, or they're getting over COVID-19 and on the way out but they don't require the extraordinary support," Dr. Zerwas added.
The set up at the Kay Bailey Hutchison Convention Center is just a sliver of what the governor's COVID-19 strike force has been working on.
"If you look at a post anesthesia care unit, which is where I spent a lot of my life, of course, those are essentially ICU beds," Dr. Zerwas said. "And then, in addition, an operating room frankly can be used the same way."
And he was specific about available trauma service areas in each region of the state.
"These are the things that actually in different areas of the state provide the care that you're going to see here, so the percentage of available beds in the Dallas - Fort Worth area is 33 percent. The numbers are there. I won't get into the details, but the percentage of available beds is a third, not too surprising," Dr. Zerwas said.
The discussion about Texas' capacity comes as Baylor Scott & White reached an agreement to donate its vacant facility in Garland to the North Texas VA health system.
Congressman Colin Allred, who pushed for the deal in a months-long bi-partisan effort, said that the facility will initially be used as an overflow spot, with 100 available beds for COVID-19 patients.
"As soon as we knew what was coming to the area in terms of the coronavirus threat, it became part of our conversation that this could be part of the response to it," Allred said. "So it absolutely was part of it and I think it was also a bit of a stimulus in terms of getting it moving along because we all recognized the capacity issues our system could have."
Allred said beds could be ready within weeks, and while long-term it'll be a big boost to area veterans, short-term, it's another resource for the community.
"The idea here is to make sure that if we are overrun in our hospital system that the VA can backstop our civilian healthcare system, that is their fourth mission," Allred added.
Gov. Abbott said that based on what he's seen, Texas should have enough ventilators to meet the projected need, and not in his words, be like New York.
He also reminded Texans to stay at home.