Gov. Greg Abbott on Dallas County COVID-19 requirements: "Once again, Judge Jenkins gets it wrong"
DALLAS - Dallas County Judge Clay Jenkins unveiled a voluntary program to dub businesses "safe" if they follow county health guidance on whether they reopen.
Jenkins says it's because Texas Governor Greg Abbott and Attorney General Ken Paxton have made it hard to make people follow requirements. But in a FOX 4 interview, the governor said Jenkins has it all wrong.
RELATED: Coronavirus coverage
As Dallas County moves closer to the next phase of re-opening, the county is out with a new program called 'Stay Safe Business,' encouraging businesses not just to reopen because they can.
"Being a stay safe business is a voluntary thing," Jenkins said. "I think what will happen, of course, is patrons will look to see what businesses are safe."
The program would ask that a business take a pledge to follow certain guidance from public health officials on distancing and safe operations. They would also be asked to follow a color-coded guide the county released this week that deems which activities are safe based on the risk-level of community spread.
Those businesses that participate will be able to show off a Stay Safe Business insignia in their windows.
Jenkins says the program was hatched in part after a letter AG Paxton sent Tuesday saying Dallas County's safer-at-home order was unlawful. The order expires at midnight anyways.
"The governor's order does not include a mandatory 'shelter-in-place' order, but yours does," Paxton told Jenkins in the letter. "Insofar as your order conflicts with the governor's order, it is unenforceable."
"What the attorney general has effectively done is he's made it very hard to have requirements, to actually require people follow what the governor says he wants them to do," Jenkins said. "So it's kind of like I'm saying I want you to do something but I don't necessarily care whether you do it or not."
"You know, this is really simple," Abbott rebutted. "Once again, Judge Jenkins gets it wrong."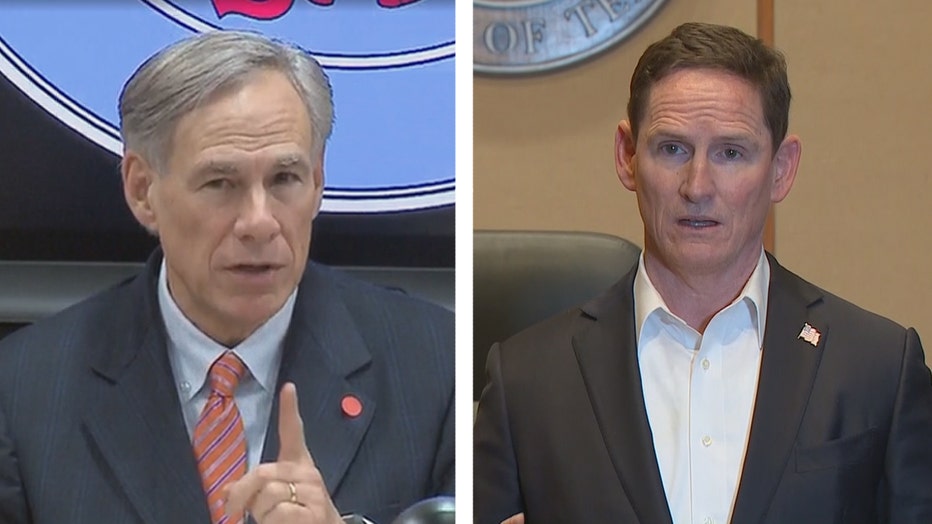 In an interview on FOX 4, Abbott said any business violating his rules can still face consequences.
"As Judge Jenkins knows, it's clear that there are monetary fines available and there are licenses that can be revoked if people do not comply," he said.
The governor said he did not talk with Paxton about the letter and couldn't speak to the attorney general's reason for sending it just a few days before the order expired anyway.
"My perception was it was an attempt to seek alignment of state and local executive orders," Abbott said.
There were six deaths reported on Thursday, but the county says it is on track for the lowest week of deaths in a month. Jenkins says there is increasing confidence Dallas County is at the plateau for cases.