Gov. Abbott says Texas will receive 1.4 million doses of COVID-19 vaccine this month
Governor Greg Abbott said Texas will receive an allotment of more than 1.4 million doses of the COVID-19 vaccine from the Centers for Disease Control.
That allotment is for the month of December, and doses should start being distributed across the state starting the week of Dec. 14.
Gov. Abbott added that the doses will be given to "qualifying providers," who will administer the vaccines based on the "Vaccine Distribution Principles developed by the state's Expert Vaccine Allocation Panel."
Additional allotments of the vaccine may be made available later this month, and Gov. Abbott said increased allotments are expected for January and beyond.
"The State of Texas is already prepared for the arrival of a COVID-19 vaccine, and will swiftly distribute these vaccines to Texans who voluntarily choose to be immunized," Gov. Abbott said in a statement. "As we await the first shipment of these vaccines, we will work with communities to mitigate the spread of COVID-19."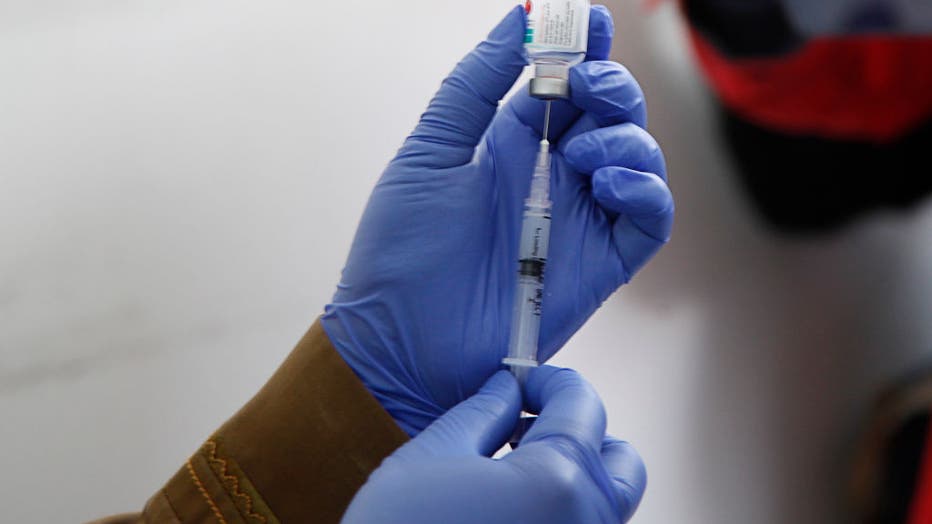 A file image shows a medical worker preparing a vaccine during a COVID-19 vaccine trial. (Photo by Adriana Adie/NurPhoto via Getty Images)
It's unclear how many of those doses will be sent to the DFW area, but a spokesperson with the Texas Department of State Health Services says those decisions are being made right now.
Looking at data like transmission rates, population density and anonymous cell phone data to see areas where people are gathering for long periods of time.
"By looking at the anonymized data, you can tell where people are kind of getting together and staying together long," said UT Arlington research professor Dr. John Silva. "Anything more than 15-20 minutes indoors means that you really increase your risk of getting COVID."
With those vulnerable areas and populations possibly being targeted for the vaccine.
"Black and Hispanic are at a much higher risk at developing COVID and they're also at higher risk of dying of COVID," Dr. Silva.
Though the top two vaccine candidates have gone through several phases of trials, neither have received FDA emergency approval. There are still some unknowns.
Both Moderna and Pfizer have asked the federal government for emergency approval to distribute their vaccines. Pfizer is up for review by the FDA next week, Moderna isn't up for review until Dec. 17.
Governor Abbott has said the state is prepared for Pfizer's vaccine.
RELATED: