4 fuel theft suspects arrested at Dallas gas station
DALLAS - Dallas police arrested four fuel theft suspects at a gas station on Wednesday.
The suspects, identified as Rando Betancourt Barco, Lazaro Echemendiamiranda, Alfredo Hechavarria, and Pedro Ruiz, were found at a gas station in the 10400 block of Garland Road.
According to police, they were using three vehicles, including a modified pickup truck that had an external fuel tank.
RELATED: Thieves steal 5,000 gallons of diesel from Dallas gas station, video shows
Police had been investigating the suspects and found that Ruiz opened the front panel of a fuel pump and installed an electronic device designed to steal fuel. Hechavarria then pumped the stolen fuel into one of their vehicles, while Barco and Echemendiamiranda were lookouts.
RELATED: $5K worth of gas stolen from Fort Worth gas station
There were three electronic devices found at the gas station. Police said one was inside the fuel pump and the two other devices were inside one of the suspects' vehicles.
Cell phone video sent to FOX 4 shows Dallas officers swarming a 7-Eleven in East Dallas Wednesday. That's where investigators say four men were arrested for attempting to steal fuel using multiple vehicles. 
Senior Investigator Jeff Roberts with the Texas Financial Crimes Intelligence Center works alongside DPD.
Wednesday morning, Dallas police tracked a convoy of vehicles from Addison to a Dallas gas station at the intersection of Garland and Easton. 
"We are connecting the dots. These agencies communicate amongst each other and realize they are all looking at the same suspect," Roberts said.
Police say while Betancourt-Barco was on lookout, Ruiz exited his vehicle and installed "an el mando" inside the fuel pump, an electronic device designed to allow trucks to pump several gallons of diesel fuel for a fraction of the price.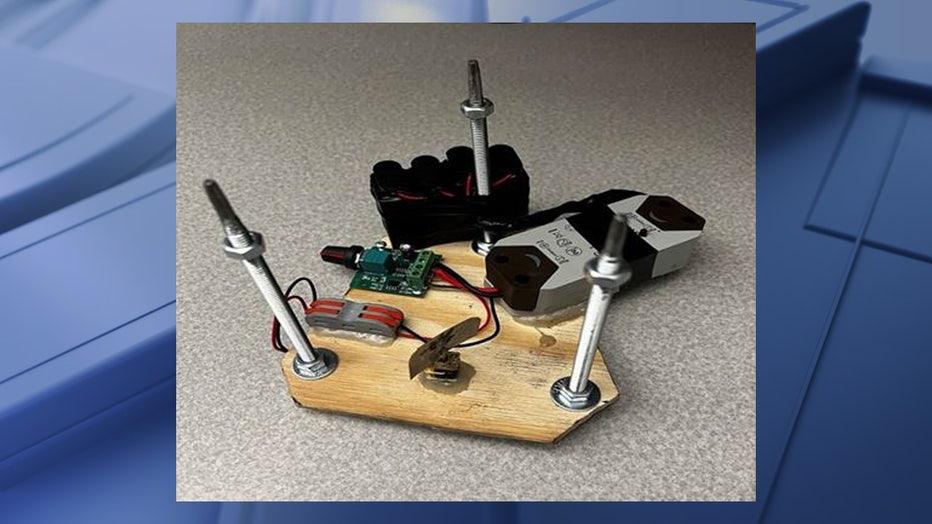 "Then they communicate amongst their network and send in bladder trucks, trucks or vehicles. And it can be any vehicle," Robert said.
Police watched Hechavarria begin fueling from the same pump Ruiz had just tampered with. At the same time, police say Echemendia-Miranda was waiting his turn in a white Ford F150 parked behind the convenience store. 
Ruiz and Betancourt-Barco took off in their car to a different seven eleven three miles away. Police followed them both. 
Roberts says the technique is decades old, but the technology is evolving. 
Once officers opened up the tampered gas pump off Garland, they found the "el mando" inside. They also found two more in the suspect's vehicles. 
Inside Ruiz's wallet, police found screws and wrenches matched up with the devices. 
Investigators determined the four men stole 80 gallons worth $427 before they were taken into custody.
All four suspects were charged with engaging in organized criminal activity, theft of a petroleum product, and unlawful use of a criminal instrument.