Fried charcuterie boards, deep fried BLT among the 2022 Big Tex Choice Awards finalists
DALLAS - The State Fair of Texas announced the finalists for the 2022 Big Tex Choice Awards. It's a competition that brings out the best in fried food.
This year's theme is Treats of Texas, highlighting the ingenuity of the state fair concessionaires.
Savory 
Chicharron Explosion Nachos (State Fair of Texas)
Chicharron Explosion Nachos - Fresh pork rinds are seasoned with Cajun seasoning and topped with smoked fajita beef and covered with queso. The explosion is topped with savory barbeque chopped beef.
Deep Fried BLT - A tortilla is folded into a pocket, stuffed with smoked cheddar cheese and bacon. It's deep-fried until crunchy and melted and then filled with the classic BLT fillings. The sandwich is served with garlic Parmesan chips.
Deep Fried Lasagna Roll - Ribbon pasta is topped with ricotta, Parmesan, provolone and fresh mozzarella cheese and homemade meat sauce. It's then rolled, dipped in a cheddar and herb batter and fried until golden brown. It's served with marinara sauce and a side of deep-fried zucchini fries.
Fried Charcuterie Boards - Fresh mozzarella, salami and crisp green apples are tossed in olive oil, balsamic vinegar and Italian herbs. They're fried in a wanton wrapper and topped with goat cheese and a drizzle of hot honey.
Holy Biscuit - A golden-brown biscuit is stacked with slow-smoked shredded brisket and fire-roasted street corn queso. It's topped with thick-cut bacon drizzled with hot Texas honey and crispy pickle fries.
Sweet
Cha-Cha Chata (State Fair of Texas)
Cha-Cha Chata - This milkshake is made with milk and vanilla ice cream blended to perfection with the Garza family's top-secret horchata recipe. The rim of the cup has caramel and cinnamon and the drink is topped with whipped cream and dusted with crushed candy, cinnamon galletas de gragega and deep-fried arroz con leche bites. It's served with a churro straw.
Deep Fried Rocky Road with Blue Bell Ice Cream - Rocky Road Kettle Fresh Fudge is coated with sweetened batter and deep-fried to perfection. It's served with a side of homemade vanilla Blue Bell Ice Cream and topped with a drizzle of chocolate syrup, condensed milk, powdered sugar, mini marshmallows and chopped cinnamon-glazed nuts. 
La Bluebonnet - Fresh-squeezed citrus juices and blueberries are folded into a sugary base and shaken to achieve the perfect balance of sweet and tart. It's served over ice and topped with a lemon-mint-berry twist.
Peanut Butter Paradise - A honey bun is deep-fried, injected with caramel and then topped with peanut butter. The whole thing is then topped with layers of peanut butter treats like Reeses Pieces, Butterfinger crumbles and peanut butter cups.
The Ultimate Brookie Monster - Chocolate chip cookies are layered with Oreos and marshmallows. The creation is covered with brownie batter and baked into a super brookie. It's then battered and deep-fried, topped with powdered sugar and served with a scoop of vanilla ice cream. The whole thing is topped with cheesecake crumbles and strawberry sauce.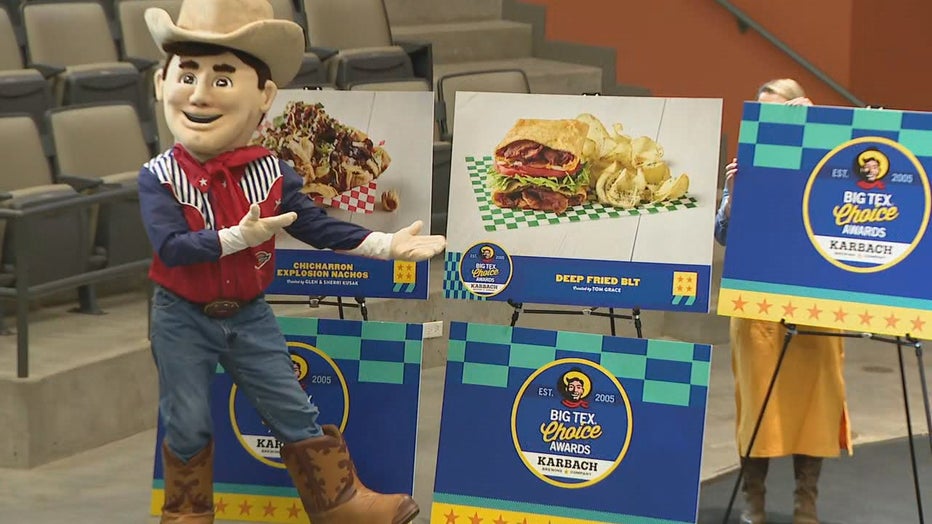 Vendors said it all takes them all year to come up with these recipes.
"This is a year-long process. Everybody in our community kind of gives us ideas on what to try," said Glen Kusak, who created the Chicharron Explosion Nachos.
"We've got a creative group here. I'm like the hand. She's like the brain. He's the eyes. So we just collaborate each year and brainstorm," added Deep Fried Lasagna Roll creator Greg Parish.
Thousands of seasonal jobs available for State Fair of Texas
The top 10 finalists will compete for titles of Best Taste in the savory and sweet categories. There's also an award for the most creative. 
"This is our first time in a contest, so we are very excited we get to be here with the veterans," said Nicole Sternes, the creator of the Peanut Butter Paradise.
The winner will be announced on Aug. 28.
The 2022 state fair runs from Sept. 30 to Oct. 23.