France attacker called volatile, showed no jihadist links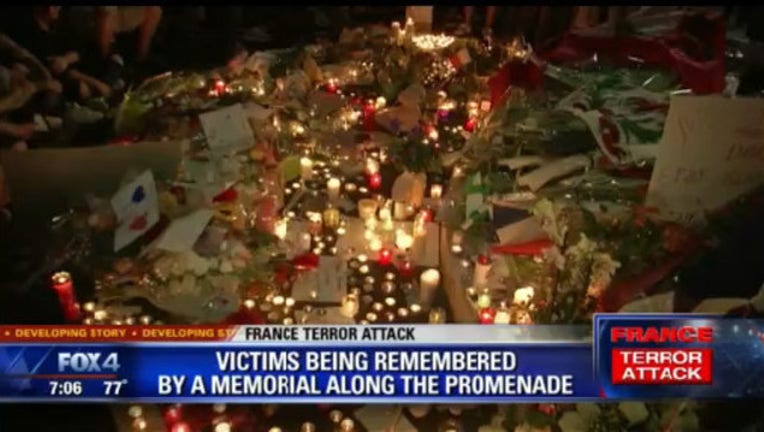 NICE, France (AP) — The man responsible for turning a night of celebration into one of carnage in the seaside city of Nice was a petty criminal who hadn't been on the radar of French intelligence services before the attack.
The Islamic State group claimed Mohamed Lahouaiej Bouhlel as a "soldier" on Saturday, but what is known so far about Bouhlel suggests a troubled, angry man with little interest in Islam.
The 31-year-old was born in Msaken, a town in Tunisia, but moved to France years ago and was living in the country legally, working as a delivery driver.
At an apartment bloc in the Quartier des Abattoirs, on the outskirts of Nice, neighbors described the father of three as a volatile man, prone to drinking and womanizing, and in the process of divorcing his wife.
His father said Bouhlel had violent episodes during which "he broke everything he found around him."
"Each time he had a crisis, we took him to the doctor who gave him medication," Mohamed Mondher Lahouaiej Bouhlel told BFM television.
His son hadn't visited Tunisia in four years and hadn't stayed in contact with his family, he said.
"What I know is that he didn't pray, he didn't go to the mosque, he had no ties to religion," said the father, noting that Bouhlel didn't respect the Islamic fasting rituals during the month of Ramadan.
In a news conference Friday, hours after the attack in which 84 people were killed and 202 were wounded, prosecutors said they had found no links to the Islamic State extremist group.
Bouhlel had had a series of run-ins with the law for threatening behavior, violence and theft over the past six years. In March, he was given a six-month suspended sentence by a Nice court for a road-rage incident.
His court-appointed lawyer, Corentin Delobel, said he observed "no radicalization whatsoever," and Paris prosecutor Francois Molins said Bouhlel was never placed on a watch list for radicals.
Records show that the 19-metric-ton (21-U.S.-ton) truck that was rammed through the seaside crowd in Nice was rented in the outskirts of the city on July 11 and was overdue on the night of the attack.
About 25 minutes before the July 14 fireworks show, a popular event that draws hundreds of thousands of people to the Nice seafront each year, Bouhlel climbed into the vehicle and drove toward the city center.
Shortly after 10:30 p.m., he drove onto the Promenade des Anglais that had been closed to traffic for the night.
Witnesses described seeing how Bouhlel purposely steered the truck to hit men, women and children as they tried to flee.
"It was such a nice atmosphere before this started," recalled Sanchia Lambert, a tourist from Sweden who had come to visit family in Nice. "There were people playing drums, kids riding their bikes. That makes what happened all the worse."
Her husband, John Lambert, said the couple was almost struck by Bouhlel.
"I saw his face," Lambert told The Associated Press. "He was totally focused."
Within minutes the attack was over, with Bouhlel dead in a hail of police gunfire. Inside the driver's cab lay a loaded handgun, three replica firearms and an empty grenade.
Investigators are looking into how Bouhlel acquired the cache of weapons. A series of attacks in recent years has shown that radical jihadi networks are seemingly able to obtain guns, and even heavier automatic weapons, with ease in France.
Nice is home to a sizeable Islamic community, and Muslims were among the victims. It is also the home of Omar Omsen, notorious for his French-language jihadi recruitment videos and now believed to be fighting in Syria.
Fellow Tunisians in Nice said they hoped the attack wouldn't reflect badly on them.
"It shocks me because here's a guy who comes from the same town as me," said hair stylist Morgan Braham, 31. "Today I'm almost ashamed and afraid. It's not only shame it's also fear, to tell people that we're Tunisian."
____
Philippe Sotto in Nice, Elaine Ganley in Paris and Lori Hinnant in Perigueux, France, contributed to this report.