Forney fatal shooting investigation forces two school closures
FORNEY, Texas - A murder investigation is now underway in Kaufman County after a man was found dead outside of North Forney High School.
Classes were canceled Wednesday morning for students at two Forney schools because of the deadly shooting investigation.
Investigators say they found a Black male victim. They haven't positively identified the victim yet, but they say he's a man in his 20s and doesn't appear he has any connection to Forney ISD. They are still searching for the shooter.
The Kaufman County Sheriff's Office said officers found the man's body around 3 a.m. in the 6100 block of Falcon Way. That street runs between North Forney High School and Smith Intermediate. 
The fatal shooting didn't happen on either campus, but the area blocked off for the crime scene investigation blocks access to both schools.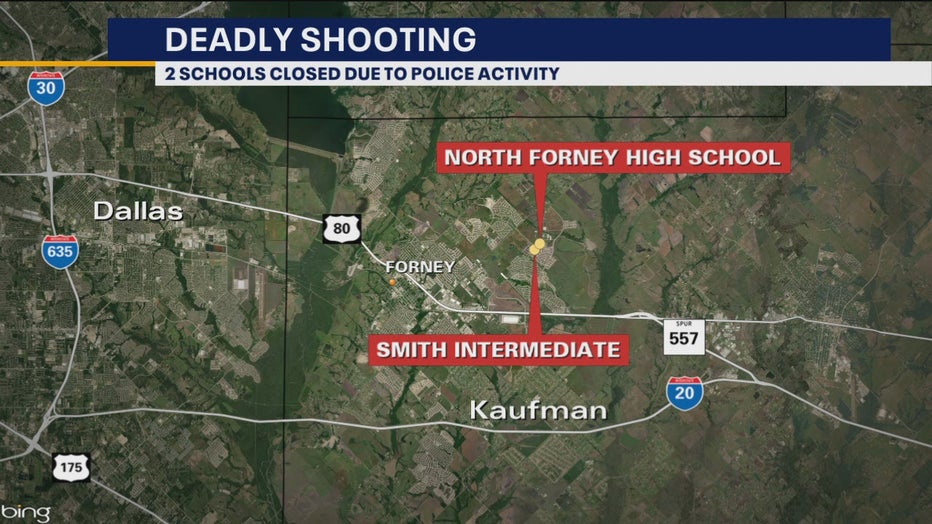 The crime scene was released in time for after-school activities to resume. Classes for both schools are back on Thursday.
But there have been growing concerns among residents in the area over a string of recent violent incidents, including a stabbing and two other shootings in the Forney area.
EJ White has lived in the Clements Ranch neighborhood for three years and had previously scheduled a community watch meeting Thursday night because of all the recent crimes. 
In July, a man was found shot dead in his vehicle in the Travis Ranch neighborhood.
MORE: Man found fatally stabbed in Forney
Just days later, a man was stabbed to death in another nearby neighborhood. 
"I don't know what the answer is. But we can't just turn a blind eye to any. At least, I don't feel like we can," White said. "And I can't complain about it if I'm not going to try to do something." 
At this time, investigators say there's no indication Wednesday morning's murder is connected to any previous incidents. Investigators also say they haven't found any evidence this incident is gang or drug-related and have not released a suspect description. 
But with this latest shooting, residents are hoping to get answers from law enforcement and band together to help stem the problem. 
"Here we go again," White said. "I mean when is enough going to be enough? I don't know."
The community watch meeting is scheduled for Thursday night at 7 p.m. at Lewis Elementary. Representatives from the Kaufman County Sheriff's Office and the constable's office are scheduled to be there. 
Anyone with information about the case is asked to contact Kaufman County Crime Stoppers at 1-877-847-7522.
READ MORE: Local News on FOX 4