5-alarm recycling plant fire sends up large plume of smoke in Tarrant County
RICHLAND HILLS, Texas - Multiple fire departments are working a large fire at a foam recycling plant that sent a large plume of smoke into the air in Tarrant County.
The 5-alarm fire is at a commercial warehouse for Advanced Foam Recycling in the 2500 block of Handley Ederville Road in Richland Hills, near the Fort Worth border.
The thick black smoke was visible from miles away.
There was one injured person, who was driven to a hospital before crews arrived on scene, according to the Fort Worth Fire Department.
There is no information on their condition or the extent of their injuries at this time.
There are eight fire departments assisting the city's firefighters.
The blaze started just before 12:30 p.m. There were people working inside the massive complex, which is roughly 150,000 square feet of space.
"I don't have a count on how many people had been in the building when the fire started. The fire is also, it's an unknown cause at this time," said Richland Hills PD Captain Sheena McEachran. "This business, it's a one-story business, but it's pretty large. It's about two or three blocks long so it's a major fire, but like I said, luckily it's contained to the one building, everyone made it out we just have the one injury."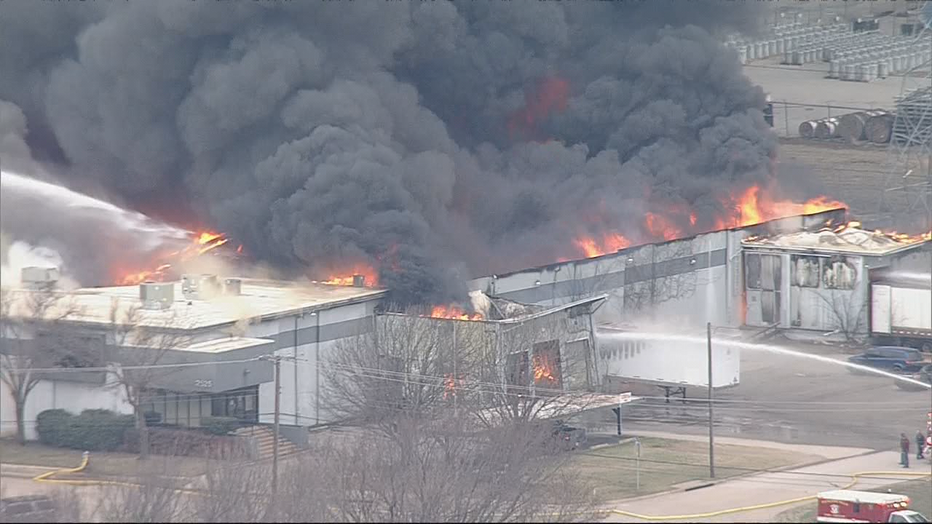 About 125 firefighters were on the scene at the height of attacking the flames.
According to the Haltom City Fire Department, which is assisting, there are hazardous materials in the building.
The exact materials that are burning are unknown, but the plant recycles foam like you might find in bean bags, small foam pieces.
People are being told to avoid the area, and those who live nearby are asked to stay inside and ensure their windows and doors are closed.
For now, authorities have said there are no toxins in the air to cause alarm and no other evacuations taking place.