Fannin County man facing charges for Capitol riot
DALLAS - Another North Texan has been charged for storming the U.S. Capitol earlier this month.
The FBI said it got several tips that 22-year-old Nolan Cooke was posting about his actions on Jan. 6 on numerous social media sites.
Cooke was arrested in the small town of Savoy in Fannin County, near Sherman.
Agents said he admitted he and his girlfriend, whose face was blurred by the FBI in an Instagram photo, were at the Capitol that day. His girlfriend is not charged in the case.
Cooke said he pushed past officers and used a flag pole to bang on a window outside the Capitol building but claimed he never went inside.
He's charged for entering a restricted building or grounds and disorderly or disruptive conduct in or near a restricted building or grounds, as well as unlawful activities on the Capitol grounds.
"It was an egregious act and certainly violated the laws of this country," said Gil Torrez, who is a former FBI special agent not involved in the Capitol riot investigation.
He said endless video footage of the Jan. 6 U.S. Capitol riot, facial recognition software, and social media posts - like those from Cooke - are leading to more tips to investigators.
"I think it is extremely manpower intensive. I think it is extremely a resource drainer," Torrez said. "There's nothing like having human intelligence."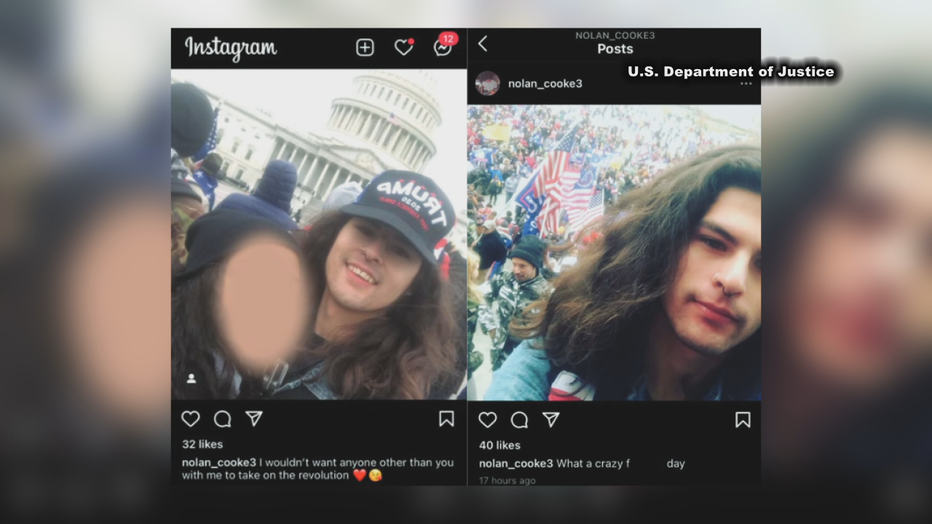 On Thursday, another suspect, 58-year-old Troy Anthony Smocks, appeared in court for a detention hearing.
According to court records, the Dallas man posed as a military officer and posted online messages intended to influence veterans.
His arrest affidavit said he flew to Washington D.C from Texas on Jan. 5.
The day of the riot, the affidavit said Smocks posted to his social media account that he "will return on January 19th, 2021, carrying our weapons in support of Our nation's resolve, to which the world will never forget. We will come in numbers that no standing army or police agency can match."
A post on Jan. 7 said: "Prepare our weapons, and then go get'em.  Let's hunt these cowards down like the Traitors that each of them are." Investigators said that post was viewed 54,000 times.
"When you publish something and it's you talking, the account belongs to you, it's kind of hard to deny that it was you," Torrez said.
The arrest affidavit said Smocks was referring to Democrats, tech execs and RINOs, which the stands for "Republican in name only."