Everman police officer Alex Arango dies because of COVID-19
EVERMAN, Texas - The North Texas police officer who was on a ventilator in the intensive care unit because of COVID-19 has passed away.
The Everman Police Department said Officer Alex Arango died in the line of duty Thursday morning.
The 27-year veteran officer had been in the intensive care unit at Texas Health Harris Methodist Hospital in Fort Worth for more than a week and was placed on a ventilator Monday.
Arango's body was escorted from Harris Southwest Hospital in Fort Worth to a funeral home.
Patrol cars with flashing lights and first responders following suit. A silent and moving procession was held Thursday morning.
His family and friends are still dealing with the tangled impact of COVID-19, as many family members are still sick.
His 81-year-old mother and son-in-law are also at the hospital battling the virus, while his wife, daughter and grandson are recovering from it at home.
"This is all so much. We are all hurting, we are scared," Arango's sister, Danet Arango Henry, said.
Police Chief Craig Spencer said Officer Arango was the longest-serving officer on Everman's force. The chief called him the cornerstone of the department and said he was always trying to support and take care of others.
"Alex was the type of guy that, he was a leader. He never wanted to promote. In 27 years, you'd think that you'd have someone that would want to promote to sergeant or a lieutenant, possibly even chief. However, Alex never wanted to promote because he liked serving the community and he liked being involved in the community and he liked mentoring other officers," Chief Spencer said.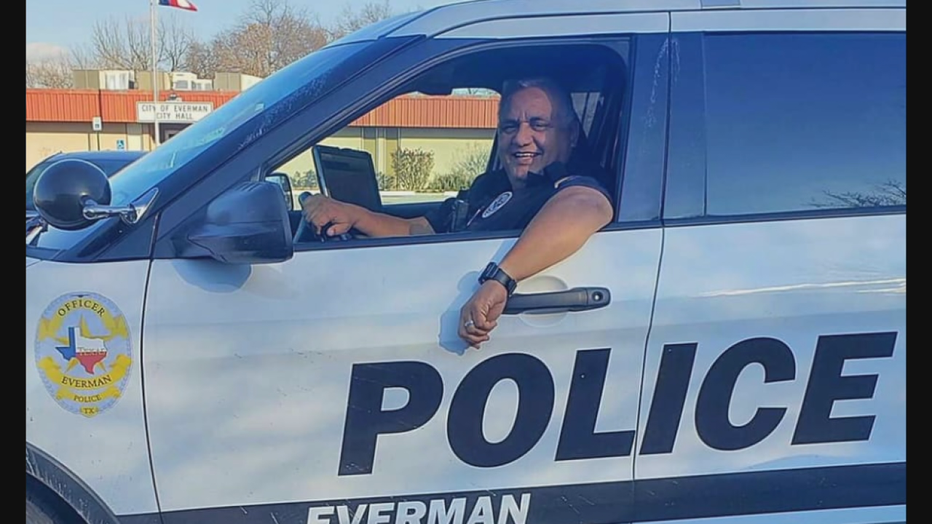 Spencer said Arango was the primary officer to make contact with people at a home where someone was arrested about three weeks ago.   
Days later, the department notified officers on that scene that some who lived there tested positive for COVID-19.
Officer Arango's daughter said her dad never expressed fear of doing his job, even in the midst of the pandemic.
"He loved his job, you're not going to slow down 'Law Dog.' 'Law Dog' was his name, that was it, 'Law Dog,'" Annette Arango said.
Officer Arango's fellow officers are supporting his family and sharing fond memories of him.
"He was a real friendly person, kind-hearted. He's going to be missed a lot," Everman PD Cpt. Ismael Quintero said. "Sometimes he'd come and have lunch with us during the day on shift. It was just the camaraderie we had together. He was just a kind-hearted person."
In addition to being a longtime police officer, he was also an Army veteran.
RELATED: Everman officer on ventilator in ICU because of COVID-19