Everman officer on ventilator in ICU because of COVID-19
EVERMAN, Texas - People in a small North Texas town are praying for a police officer and his family, who are all battling COVID-19.
Alex Arango is an officer in Everman, south of Fort Worth.
The officer has been in the ICU at Texas Health Harris Methodist Hospital in Fort Worth for a week and was placed on a ventilator Monday. His 81-year-old mother is also there battling the virus.
Arango also has three other family members at home recovering from the virus: his wife, grandson and son-in-law.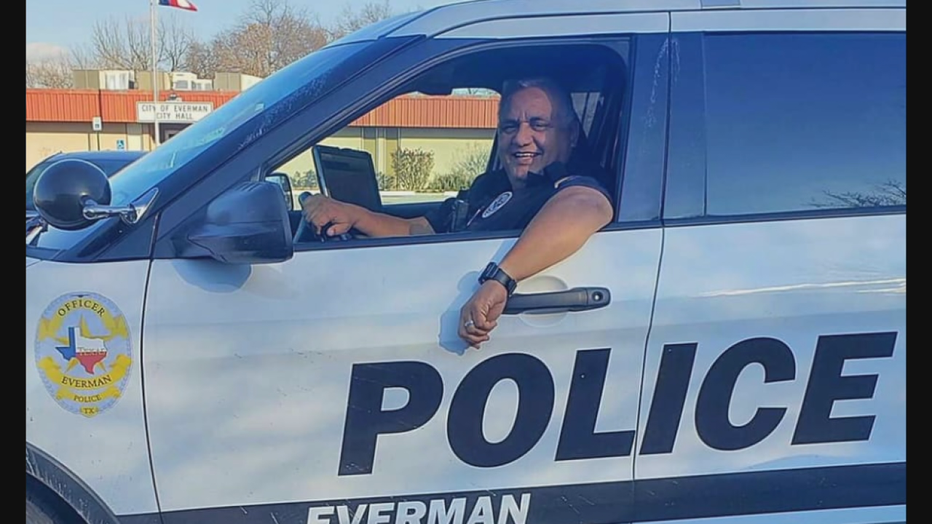 Officer Alex Arango (Everman PD)
Arango's youngest sister, Danet Arango-Henry, says it's hard to describe their family's level of concern. 
"I've seen all the love and support from text messages and emails, phone calls and the family in blue, especially my brother's Everman police station showing their love and support for everybody," she said.
"It's tough. It's not easy," said Everman Police Chief Craig Spencer. "Alex is truly the cornerstone of the department, so everybody relies on him. He's the longest-serving police officer on our force."
Chief Spencer describes the impact of Officer Arango's 27 years on the force. A cell phone video shows the crowds that turned out Monday for a prayer vigil for the officer and his family.   
"A couple of which attested to Alex saving their lives and being there for them and had nothing but positive testament about the impact that Alex has had on our community and for them and their lives," Spencer said.
The community, which has received so much from Officer Arango, is making its best effort to return the support through prayers and financial donations.
"Alex is the kind of guy he likes to take care of everyone around him," the chief said. "The hope is we can step in and we can feel Alex's shoes and take care of his family as best we possibly can. They are big shoes to fill, but we are going to do everything we possibly can to fill that void while he's taking time to take care of himself and recover."
 "Him and my mom being our rock, it's tough. Yes, it is," Arango-Henry said.
Officer Arango's sister says she is hopeful that doctors can find an alternative method of treatment, perhaps something experimental to help her brother and mother who are most severely affected.