East Oak Cliff food desert adds much-needed new grocery store
DALLAS - There is a new supermarket on Simpson Stuart Road in East Oak Cliff in an area where there has been no nearby supermarket since 2020.
A grand opening was held for The Food Basket in the neighborhood.
"I always say the sun shines on the southern part of Dallas," said Dallas city councilman Tennell Atkins. "The sun is fixing to rise again on a rainy day."
"It's right here in the neighborhood, and it's convenient for us and I know it's convenient for the people around here as well," said shopper Datrion Smith. 
The area is home to some 20,000 residents and 300 new apartments are in the process of being built.
"This is such a blessing to have over here when it's been such a food desert for so many years," said shopper Vera Sneed.
READ MORE: New Mesquite ordinance will limit number of dollar stores
The zip code 75241 is a food desert, an area with limited access to affordable and healthy food.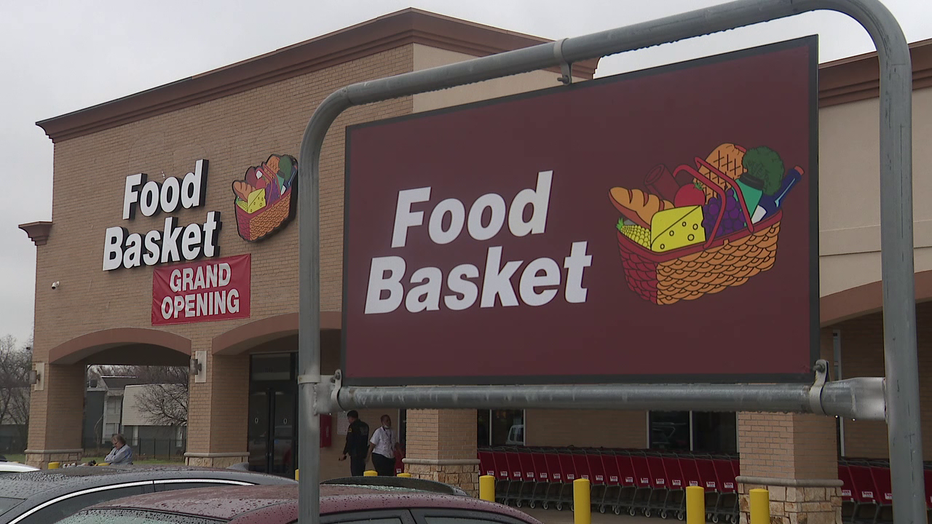 Food Basket hopes to change that. Sitting where the previous grocery store, Save U More, closed in 2020.
That store was supported with millions in tax dollars from the city.
"We put our money in this neighborhood, but guess what it failed. But guess what, someone took the baton. We passed the baton over to someone else," said councilman Atkins.
"I've opened hundreds, if not more than that, supermarkets," said Food Basket general manager Bill Davidson.
READ MORE: SMU grad student works to fix South Dallas food deserts
The company operates five Cash Saver supermarkets, three of those in other inner-city Dallas neighborhoods. Those areas were also classified as food deserts.
"We have the skill and ability and presentation of product to give that customer a reason to trade with us and stay with us," said Davidson.
Cash Saver-Food Basket bought the strip center from the developer, with no money from the city. They promised to pay Dallas $2.8 million if they don't stay here 5 years and 9 months.
"They came here to stay, but it's up to you to make sure they can stay. It's up to you to shop here," said Atkins.
"In the neighborhood we don't have a variety of good stores to go to. I pray that this store right here will be good and a blessing for the whole neighborhood," said shopper Wesley Williams.