Drummer injured in Deep Ellum hit-and-run gives update on his recovery
DALLAS - More details are being released about what happened before, during, and after the attack of a musician who was trying to stop a thief.
Brother Moses drummer Corey Dill may be out of the hospital, but his recovery will take some time.
He'll remain in Dallas until he's fully healed.
He spoke about his injuries and what he remembers from that fateful day.
"So there's another, kind of, another round of surgeries and tests and things to figure out, like where I'm at healing," Dill said.
It wasn't long ago that the 28-year-old was lying in a hospital bed at Baylor Medical Center in Dallas.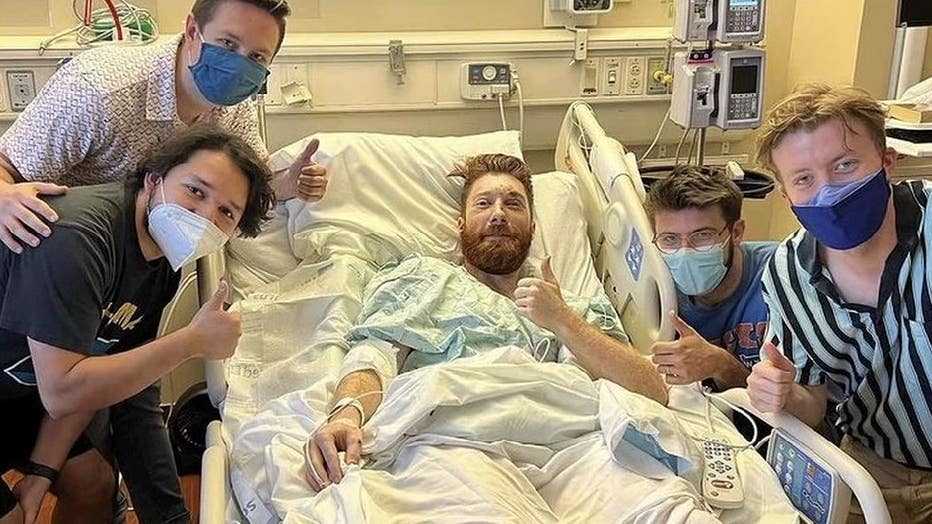 The drummer was seriously injured on October 19 after he tried to chase down a man who Dill and another band member saw breaking into their tour van parked in Deep Ellum. 
"Basically, I remember the chase and I remember like catching the guy as he got to the passenger door, and then I don't remember anything at all," he recalled.
His bandmate said dill was driven over by the getaway truck that was waiting in the alley, near the Deep Ellum Art Company, where the band was about to perform.
Dill's pelvis was crushed.
"So basically, I wake up and I have these metal rods sticking out of my hips, which is a pretty unsettling thing to experience," he said.
RELATED: Band member seriously injured in Deep Ellum hit-and-run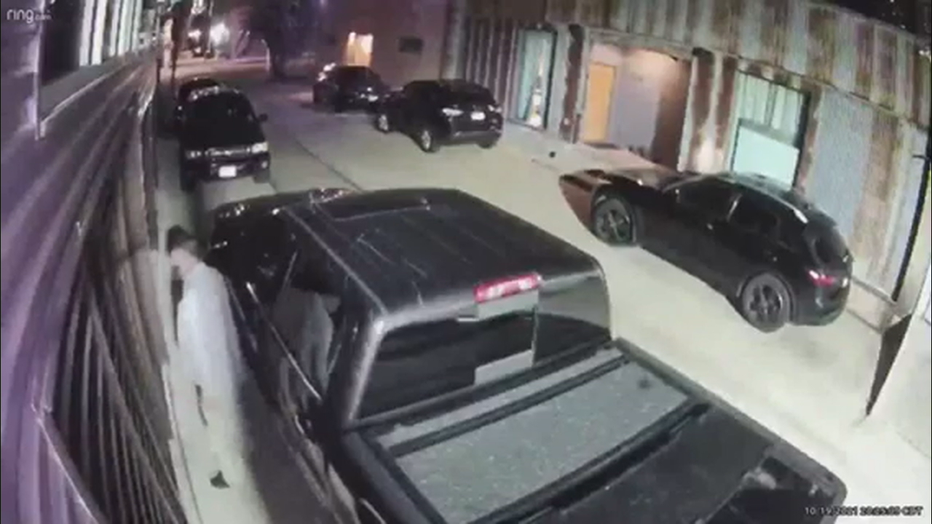 A nearby business provided Dallas police and FOX4 News with surveillance video that is believed to show the getaway driver and pick-up truck parked in the alley off Hall and Clover.
The distinctive truck is believed to be a dark grey 2015-18 GMC Sierra, with sectional cover over the bed and aftermarket chrome wheels and smaller tires.
The camera also captured a blurry image believed to be the man who broke into the band's van.
"We'd love to catch the guys," Dill said.
Dill spent 15 days in the hospital.
He's documented his road to recovery through pictures.
"There was one day where, like all of the facial fractures were kind of addressed," Dill said.
Dill is doing some physical therapy, but spends most of his time in a wheelchair as his legs heal.
He's grateful to his wife, bandmates, and fans who have showered him with love and support.
Dill is determined to play the drums again.
"I picked up some sticks today and was kind of just sitting on a practice pad just to see," he said. "It seems like my arms are mostly OK. It'll just be kind of getting the legs back up to speed."
Dill still has several surgeries ahead of him.
The medical bills are piling up.
Anyone with information about the case is asked to call the Dallas police department.