DPD announces new 'duty to intervene' policy for officers
DALLAS - The Dallas Police Department is making a policy change in direct response to the death
of George Floyd.
Around midnight, Chief Renee Hall sent out a memo regarding the duty to intervene.
RELATED: More George Floyd death coverage
She said Floyd's death in Minneapolis police custody last week was preventable and that it could have been stopped if other officers had intervened while an officer held his knee on Floyd's neck for several minutes.
The chief said it is vital to protect both the public and the people who work for DPD.
The Dallas city manager called these initial action steps "the floor, not the ceiling" of reforms and cultural changes at Dallas City Hall.
The reforms are aligned with "21st century policing."
A former police chief and criminologist spoke about what the changes mean for DPD and the public.
"I think, more than the officers needing to hear it, I think the public needs to hear that she did something," former Cockrell Hill Police Chief Catherine Smit-Torrez said.
That was Smit-Torrez's reaction to Chief Hall's new "duty to intervene policy" that implemented late Thursday.
The general order states that:
"It shall be the duty of every employee present at any scene where physical force is being applied to either stop, or attempt to stop, another employee when force is being inappropriately applied or is no longer required."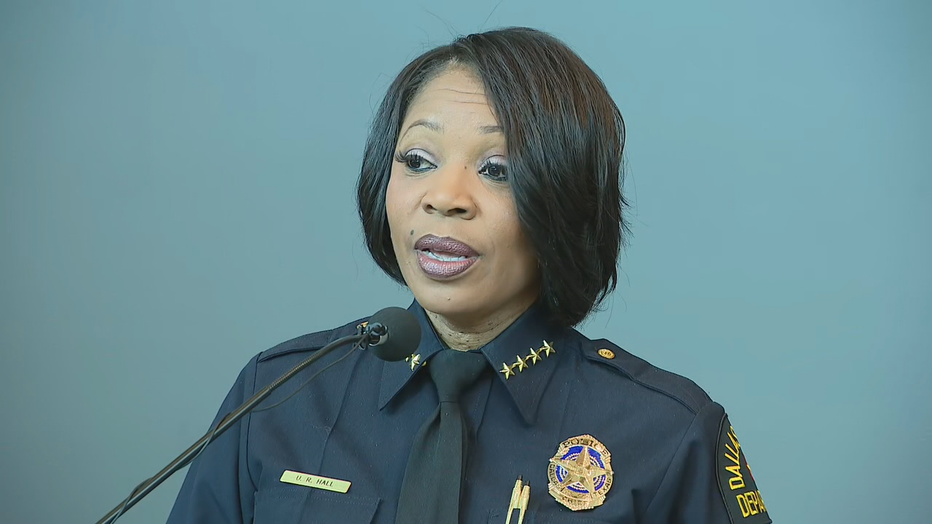 Smit-Torrez said it's important for Chief Hall to make it clear that officers who do come forward will have her support.
"Sometimes it's very challenging for a younger or less experienced officer or one who has less seniority to feel comfortable that they can't speak up and say something without punitive actions against them," Smit-Torrez explained.
Dallas City Manager T.C. Broadnax, who participated in remembrance events Friday morning, went a step further with additional reforms.
A Warning Before Shooting Policy, which will go into effect by June 12, requiring officers to warn suspects or detainees before firing weapons at them.
Monthly reporting of officer contact data on all traffic stops and citations.
By the end of June, DPD will create and implement a body and dash cam policy to release critical incident videos.
DPD and the city manager's staff will also conduct a review of all use-of-force policies and offer changes or revisions by August 28.
"The 21st policing model is about trust and legitimacy, and trust and legitimacy go both ways," UTD criminology professor Alex Piquero said.
Piquero has studied police use of force incidents extensively.
He said George Floyd's death, and subsequent protests, are a watershed moment for America, and believes these reforms are a big step in the right direction.
"Something good that can come out of this horrific event is these kinds of efforts that will hopefully prevent these things or minimize these the chance of these things happening again moving forward," he said.
The city manager also wants an "early warning system" to identify officers with three or more incidents, which may indicate a need for additional training and support.
Chief Hall said DPD will stay ready to deal with any violent behavior over the weekend.
RELATED: Protesters detained on Margaret Hunt Hill Bridge will not face charges
Eight Can't Wait is a national campaign calling for cities to enact eight policies activists see as ways to reduce violent acts by police.
In Dallas, most of the eight are already in place.
Things like chokeholds and shooting into moving vehicles are already banned.
Mike Mata is the president of the Dallas Police Association. He has some reservations with the warning before shooting policy.
"If we can do it, great, but to put it in there that it has to be done and does not say 'when possible,' I think puts a possible delay on the officer, which could cost them their life," Mata said. "I agree in premise, but in practicality, I think it needs to be more applicable when it's used in the field."
Some protesters shared their thoughts on the policy changes.
"I don't think it's enough, but at this point, it's a start," David Helman said.
"I think most of it changes when we change our mentality. You can put a policy in place, but if your policy isn't changed, then what are you really going to do about it," Jonneshia Pelsey said.
Many say this is a start, but some believe, there's a long road ahead.
"This is not new news. We can't create another hashtag and move on. This is not what this is about. I think that the people of Dallas coming together saying it may have been10 days ago and we are on day eight. We are not done yet," Kelsey Charles said.
Chief Hall said they will continue to listen to the community and make improvements when needed.
RELATED: 674 protesters detained on West Dallas bridge Monday night before being released