Dog accidentally starts fire at Frisco home on Christmas Day
FRISCO, Texas - A Frisco woman says her neighbor saved her house on Christmas morning after a family pet accidentally set a fire in the kitchen.                        
Video inside the home shows the fire on Megan Black's stove. One of her two dogs had gotten past a gate and tried to get some cookies on the kitchen counter, turning on the stove. She called her neighbor who worked to put the fire out.
All of this happened in less than seven minutes. 
Even before the Frisco Fire Department could arrive on scene, a neighbor stepped in and fought the fire herself. It was all captured on video.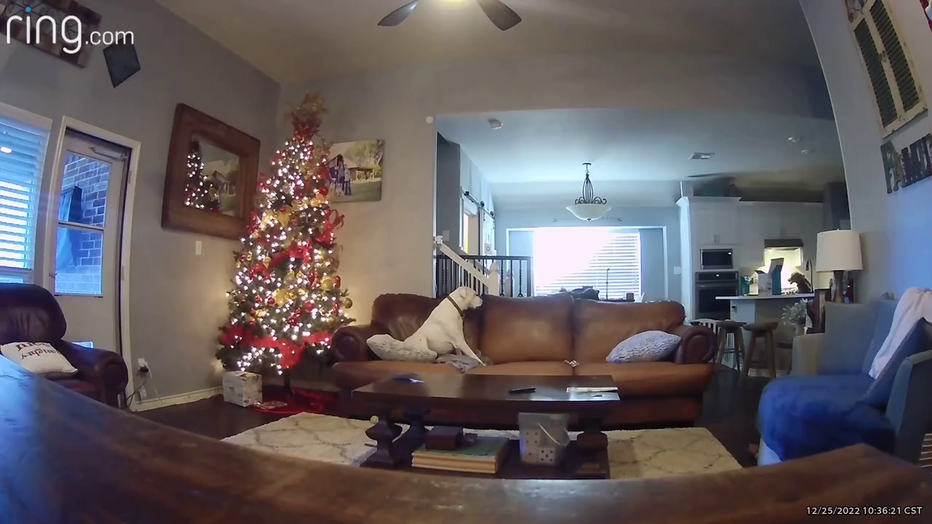 The accidental arsonist behind this near-catastrophic Christmas morning kitchen fire is named Twitch.
Black was in Celina opening presents with family when she received an alert her smoke alarms at her Frisco home were going off. 
"I'm sitting there watching her in action on my camera," she recalled. "I can't do anything. I am just watching her save my house."
While Black's sister called 911, Black called her neighbor, Cissy Blaisure, who ditched her Christmas morning coffee and ran next door. 
"Maybe it was female mom instinct. I don't know. I was just trying," Blaisure said.
If we rewind Black's home camera system just 15 minutes, the cause of the fire is clear. 
One of the dog gates blocking off the kitchen was left open.  So the 3-year-old silver lab hopped up on the stove and helped herself to cookies while accidentally holding down the knob. 
"She just pushed so perfectly and turned the stove on," Black said.
A 10-year-old boxer named Asher watched from afar as the flames started to spread. 
When Blaisure arrived, she quickly tried to get the dogs outside and then tackled the fire. 
"I look over and I see her center gas burner on. Instantly, I just turned it off," she recalled.
Luckily, Blaisure didn't get burned. But through the thick smoke, she grabbed a bowl and went to the sink. 
"I just started filling the bowl while she was on the phone with me and put as much water as I could," she said. "And then I just started throwing it." 
Black and her family are staying in a rental for now at least for the next 4-6 months. The majority of her house has smoke damage. The downstairs has to be completely gutted. But thankfully, no one was injured.