Demonstration held outside Dallas apartments where Botham Jean was killed
DALLAS - Protests and demonstrations continued Sunday in Dallas, just a day after thousands of people marched through Downtown Dallas.
Protests kicked off Sunday morning outside Dallas police headquarters with the National Injustice Peaceful Rally.
Hundreds of protesters stopped for a moment of silence at the apartment complex where Botham Jean was killed in his apartment by former Dallas PD officer Amber Guyger in 2018.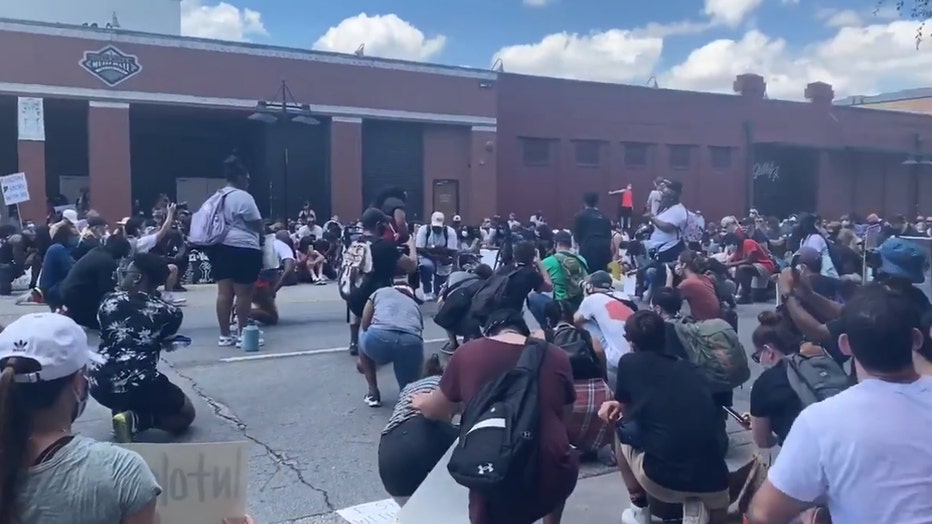 "This didn't just happen overnight. This is a byproduct of 300 years of inequity," protester Glenwood Hill said.
Under the hot, beating sun, crowds of people – young and old, white, black, Latino, and more – hit the pavement for the Black Lives Matter movement.
The protests are heading into a second week of protesting and showing no signs of slowing down.
"I'm shocked they're still doing this a week later, so hopefully it can keep going for this whole month, this whole summer, whatever it takes," protester Jessica Ibe said.
RELATED: More George Floyd death coverage
Whether they were lending support or supplies, the protesters were doing what they could to enact change.
"It's important to stand up for what you believe in and show that you support what you believe in, not just stay at home and have discussions. It's important to actually get out and protest," Silvia Goljerova said.
"I brought signs for people to make and ice water so people can stay cool," Kylie Finklea said. "Anything we can do to help continue people to keep coming out, keep wanting to come out, is just all for the better good."
Hill brought his family out, hoping the experience has a lasting impact and sets an example for his kids.
"Teaching them, you see wrong, stand up against the wrong. Don't just be quiet," he said.
"Black lives matter, it means to me, what race you are or what heritage, or where you came from, it doesn't matter. We are all the same race, the human race," Madison Hill added.
The group marched Downtown, before circling back down Lamar, stopping for a moment of silence at the Southside Flats Apartments, where Botham Jean was shot and killed in 2018 by a former Dallas police officer who said she mistook his apartment for her own.
A moment of silence was held for 8 minutes and 46 seconds for Jean, George Floyd, and other victims of police brutality.
The protesters were encouraging people to march in peace and love, while pushing for justice and equity.
"It's not going to get solved overnight, but it definitely won't get solved if we don't start," Hill said.